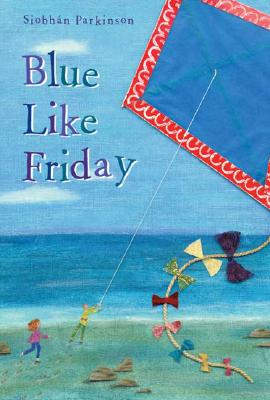 Blue Like Friday (Hardcover)
Roaring Brook Press, 9781596433403, 160pp.
Publication Date: March 18, 2008
* Individual store prices may vary.
or
Not Currently Available for Direct Purchase
Description
NOT EVERYONE SEES THE WORLD THROUGH THE SAME LENS. From the author of Something Invisible comes this funny and poignant novel about the hues of friendship.
Spunky Olivia and eccentric Hal are an unlikely pair. While Hal suffers from a neurological condition called synesthesia that causes him to associate things with colors, Olivia tends to see the world in black and white. Still, these two are friends through thick and thin, through rose-colored days and blue days, even when Hal's plan to get rid of his mother's boyfriend backfires by driving his mother away. Olivia's honest, funny and always-opinionated voice tells this story with colorful perception.
About the Author
Siobhan Parkinson is the author of 12 previous novels, including SOMETHING INVISIBLE and SECOND FIDDLE with Roaring Brook Press as well as SISTERS . . . NO WAY!, winner of Ireland's Bisto Book of the Year Award, THE MOON KING, a Bisto Merit Award winner, FOUR KIDS, THREE CATS, TWO COWS, ONE WITCH (MAYBE), also a Bisto Merit Award winner, and KATHLEEN: THE CELTIC KNOT, in the American Girls/Girls of Many Lands series. The first children's writer appointed Writer-in-Residence for the Dublin Corporation/Irish Writers' Centre, she is also currently editor of BOOKBIRD, the magazine of Ibby International, and has been a contributor to The Horn Book and other journals. She lives in Dublin with her husband and son.
Praise For Blue Like Friday…
Kirkus Reviews Starred Review In a hilarious, dryly solemn voice, Olivia tells of her friend Hal's attempt to get rid of his "sort-of stepfather." Placing a pebble in each of Alec's shoes nightly doesn't make "Him" leave. So Hal anonymously hires Alec to paint the hospital mortuary (triple pay rates for the weekend). Alec takes the bait, inducing a huge row between Alec and Hal's mother, who's expecting Alec to attend her golf competition. Hal and Olivia trail Alec to the job—but Alec never emerges, and a flashing police car enters. Has Alec been arrested? A cautious visit to the police station implies not, but then Hal's mother truly does disappear for days. This mellow Irish town is the perfect setting for Parkinson's plot, which is funny and serious at the same time. Practical Olivia sometimes rolls her eyes at peculiar Hal, especially his synesthesia (Friday is "tangy . . . sort of lemony, only sweet, like lemon sherbet"), but the two are well-suited. The whereabouts of Hal's missing mother may provoke vehement opinions. Deftly painful and sweet, never sentimental. (glossary) (Fiction. 10-14) School Library Journal

Gr 4-6–Olivia's friend Hal wants his widowed mother to break off her engagement. He misses his father desperately and finds his mother's fiancé, Alec, a poor replacement. Olivia helps Hal to concoct a plan that will make his mom mad at Alec. The real result of the prank, however, is that Hal's mom disappears for five days, which the boy finally realizes is an attempt to force him and his prospective stepfather to get along. Her trick works, and the novel ends in a case of "happily-ever-after." A compelling element that is not explored enough is Hal's synesthesia, a neurological condition that causes him to interconnect color, smell, and taste. Olivia's first-person narrative is often funny and conveys the suspense and mystery regarding Hal's mother's whereabouts .... A glossary illustrates Irish language and cultural terms used in the novel, an enjoyable element.–Marie C. Hansen, New York Public Library The Bulletin of the Center for Children's Books, Recommended Review Hal is an odd little guy, with quirks that include viewing the world synthetically (he interprets abstract concepts in colors and tastes), but he's Olivia's best friend. She therefore feels obliged to support him when he decides to wage war on his mother's new live-in boyfriend, Alec, who seems to be on the verge of stepfatherhood. Hal's big plan misfires slightly (he and Olivia end up confessing a prank to the police) but then seems to have had even more drastic consequences when his mother takes off in a rage, leaving Hal with Alec and no word on his mothers whereabouts—until Olivia solves the mystery. While the truth behind Hal to let go of his resistance to Alec, which seems a rough trick to pull on a kid traumatized by the death of his other parent—this is a lively and original story of familial and friend relationships. Olivia's highly active narration, which moves beyond direct address to bouncy involvement with her reader, is believably preteen in its frenetic impulsiveness, but she's also credibly perceptive in her understanding that Hal's resentment of Alec is baseless. The generally fizzy storytelling keeps what could be a rather haunting tale fairly light-hearted without turning it lightweight, and colorful background about Olivia's own family and especially her relationship with her older brother, Larry, makes this feel like a rich slice of life rather than a single-issue plot. It's therefore likely to have wide appeal, and it's especially likely to please fans of the Irish author's previous works blending humor, friends, and family, such as Second Fiddle (BCCB 6/07). DS
The Horn Book Magazine

In this surprisingly funny novel about family, friendship, and death, outgoing Olivia helps her quiet friend Hal with his plan to drive away Alec, his almost-stepfather. Their attempt—involving prank calls and mortuaries—misfires and results (they think) in driving away Hal's mother instead; but it turns out that his mum has her own plan, to bring Hal and Alec together. By the end, her tactic is a smashing success and also unintentionally allows Hal to find a meaningful way to say goodbye to his father, who died when Hal was five. Although logical Olivia is often irritated by Hal's oddball way of viewing the world (his synesthesia causes him to associate words with color and taste), her own singular personality comes through in her narration, in which she speaks directly to readers ("I bet you've been wondering when I'm going to get back to the kite. I didn't know you were so interested in kites. Maybe you weren't, but now you are because I have made it sound interesting"). Parkinson, whose Something Invisible (rev. 5/06) and Second Fiddle (rev. 3/07) featured children whose fathers were dead or otherwise absent, has her own inimitable ability to sensitively and authentically depict young survivors as they move beyond devastating loss. j.m.b.

Advertisement