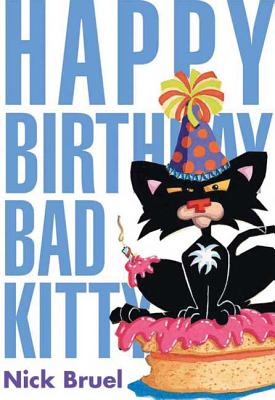 Happy Birthday, Bad Kitty (Hardcover)
Roaring Brook Press, 9781596433427, 159pp.
Publication Date: September 1, 2009
Description
It's Bad Kitty's birthday, and you're invited Bad Kitty's second illustrated novel is packed with deadpan humor, rich tidbits of cat information -- and even some suspense Who took Kitty's presents? Why are Kitty's friends so bizzare? Readers will laugh out loud at Kitty's feline mood swings, and they'll be touched by the heartwarming visit from a surprise guest.
About the Author
Nick Bruel is the author and illustrator of New York Times bestseller Boing! and the Bad Kitty books, among others. He is a freelance illustrator and cartoonist, and during his down time, he collects PEZ dispensers and grows tomatoes in the backyard. He lives in Tarrytown, NY with his wife Carina and their lovely cat Esmerelda.
Praise For Happy Birthday, Bad Kitty…
"It's Bad Kitty's unapologetic, curmudgeon nature that delivers the laugh-out-loud funny." —Publishers Weekly "Just plain hysterical. . . . Fun for all, especially fans." —Kirkus Reviews
"[A] mix of wry story and high-impact cartoon-style art." —Booklist
"Bad Kitty is back for another adventure, and children who have met this cantankerous feline in her previous outings know that a typical birthday celebration just won't do. . . . Bruel's fast-paced humor is just right for the beginning chapter book set, and the interplay of the text with the comic black-and-white illustrations ratchets up the zaniness level. . . . A frenzied fusion of fiction and nonfiction with plenty of appeal for young readers." —
School Library Journal
Advertisement