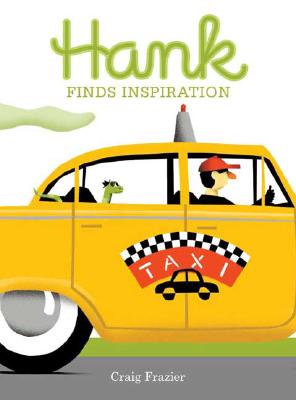 Hank Finds Inspiration (Hardcover)
Roaring Brook Press, 9781596433588, 40pp.
Publication Date: September 16, 2008
* Individual store prices may vary.
Description
WHAT IS INSPIRATION? AND WHERE IS IT HIDING?
Stanley is in desperate need of some inspiration. And what better place to find it than the big city? It doesn't take his pal Hank the Snake long to decide that maybe he, too, could use some inspiration. But where does inspiration hide? No two people have the same answer. Finally, in an art gallery, inspiration finds Hank when he falls in love with a sculpture…only to learn it's already been sold. As Hank returns to his home and his friend Stanley, both have a pleasant surprise and discover what a good source of inspiration good friends can be.
About the Author
CRAIG FRAZIER's illustrations have appeared in, among other publications, "The New York Times," "Time""Magazine," "Newsweek," "LA"" Times," and "Atlantic Monthly," and on the cover of "The Society of Illustrators Annual 41." He has also designed three stamps for the US Postal Service and the Adobe typeface Critter. His books include the STANLEY picture book series. Craig lives in Mill Valley, California, with his wife and two children.
Praise For Hank Finds Inspiration…
* Kirkus Reviews (starred review) Stanley and his snake friend Hank return in this beautifully illustrated and eloquently told tale of discovery. Feeling a bit unfulfilled, Stanley drives to the city to find some "inspiration." But Hank, still at home, wants some too. The fedora-topped snake, motivated by this newfound mission, gamely catches a cab to town. With the advice of a few urbanites, Hank searches for the elusive muse all over, from coffee at a cafe to music in the park. But at each step, the serpent is stumped, until he learns that inspiration is a feeling, which can often be found anywhere. The eventual source of Hank's inspiration is an absolute delight. Echoes of Stanley's previous adventures appear throughout the text and illustrations. The stylized artwork evokes jazz with its interplay of different shapes and rhythms, and the warm palette is full of spontaneity. Frazier masterfully tackles the complicated concept of an individual's need for inspiration in this deceptively simple story. Splendid.
or
Not Currently Available for Direct Purchase