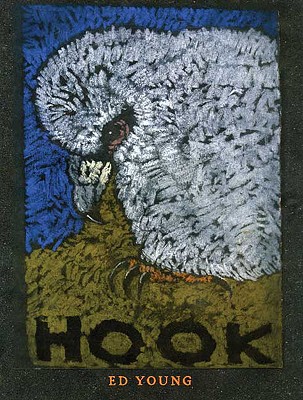 Hook (Hardcover)
Roaring Brook Press, 9781596433632, 32pp.
Publication Date: April 27, 2009
* Individual store prices may vary.
Description
A young eagle learns to soar in Caldecott-winner Ed Young's newest work.
With beautiful, sweeping artwork and spare, lyrical text, Ed Young tells the story of a boy who finds an egg and gives it to a flock of chickens. When the egg hatches not a chick but an eaglet, the hens, the roosters, and the boy all band together to help the young bird fly. In this lovely story about friendship and dedication, the eaglet perseveres and leaves behind the dusty earth for endless pastel skies.
About the Author
Caldecott Medalist Ed Young is the illustrator of over eighty books for children, seventeen of which he has also written. He finds inspiration for his work in the philosophy of Chinese painting."A Chinese painting is often accompanied by words," explains Young. "They are complementary. There are things that words do that pictures never can, and likewise, there are images that words can never describe."Born in Tientsin, China, Ed Young grew up in Shanghai and later moved to Hong Kong. As a young man, he came to the United States on a student visa to study architecture but turned instead to his love of art. Young began his career as a commercial artist in advertising and found himself looking for something more expansive, expressive, and timeless. He discovered all this, and more, in children's books. The subject and style of each story provide Young with the initial inspiration for his art and with the motivation for design, sequence, and pace. Accuracy in research is essential to his work, too whether he is illustrating fantasy, folk tale, or fact. According to Young, a strong foundation of credibility must be established in order to create new and exciting images. Through such images, he hopes to capture his readers and ultimately expand their awareness. Young's quest for challenge and growth are central in his role as illustrator. "Before I am involved with a project I must be moved, and as I try something exciting, I grow. It is my purpose to stimulate growth in the reader as an active participant as well," Young explains. "I feel the story has to be exciting, and a moving experience for a child." A graduate of the Art Center College of Design in Pasadena, Young has since taught at the Pratt Institute, Yale University, Naropa Institute, and the University of California at Santa Cruz. In 1990, his book Lon Po Po was awarded the Caldecott Medal. He has also received two Caldecott Honors for The Emperor and the Kite and Seven Blind Mice and was twice nominated for the Hans Christian Andersen Medal, the highest international recognition given to children's book authors and illustrators who have made a lasting contribution to children's literature. Young lives in Westchester County, New York, with his two daughters. His recent books for Neal Porter Books / Roaring Brook Press include Twenty Heartbeats, written by Dennis Haseley, and Hook, published in Spring, 2009.

."
Praise For Hook…
"Adults and children alike will savor the process."—Christian Science Monitor

"A powerful blend of language,imagery and emotion." —Starred, Publishers Weekly

"Young's freely sketched figures, rendered in soft, evanescent strokes, not only tell the story but suggest ideas that transcend the simple yet vital events." —Starred, Horn Book

"Vibrant, minimal chalk drawings—hardly more than sketches, but glorious ones—utilize shifting perspectives to enhance the sky's imposing vastness . . . .  Arresting and absorbing, this tale soars." —Starred, Kirkus Reviews


"This stirring story will remind readers of the Ugly Duckling, but its timeless message of determination reaches far past the fairytale genre."
—Starred, Booklist


"Young's suggestive dusky views are by turns confusing, comical, and striking. Along with the minimal narrative, they leave space for readers to ponder and question. They offer nice opportunities for shared reading and, of course, special moments of recognition for readers familiar with Andersen's tale."
—School Library Journal
or
Not Currently Available for Direct Purchase