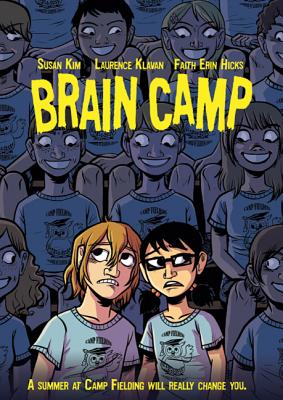 Brain Camp (Paperback)
First Second, 9781596433663, 151pp.
Publication Date: August 3, 2010
* Individual store prices may vary.
or
Not Currently Available for Direct Purchase
Description
Neither artistic, dreamy Jenna nor surly, delinquent Lucas expected to find themselves at an invitation-only summer camp that turns problem children into prodigies. And yet, here they both are at Camp Fielding, settling in with all the other losers and misfits who've been shipped off by their parents in a last-ditch effort to produce a child worth bragging about.
But strange disappearances, spooky lights in the woods, and a chilling alteration that turns the dimmest, rowdiest campers into docile zombie Einsteins have Jenna and Lucas feeling more than a little suspicious . . . and a lot afraid.
About the Author
Susan Kim has written for more than three dozen children's TV series. This is her second graphic novel. Her first, also written with Mr. Klavan, was First Second's City of Spies. Laurence Klavan has published two mystery novels. Mr. Klavan and Ms. Kim both live in New York City. Faith Erin Hicks is the author and artist of Zombies Calling and The War at Ellsmere. She lives in Nova Scotia.
Praise For Brain Camp…
From its shock opening right out of a horror movie, this graphic novel sets the scene for an old-fashioned scare story. A throwback to the sort of paranoia that Rosemary's Baby and The Stepford Wives capitalized on so well, the tale follows Lucas, a tough kid from the wrong side of the tracks, and Jenna, an Asian girl who isn't measuring up to her siblings' grade averages, as they are bundled off to Camp Fielding, where they're guaranteed to become high-performance go-getters. But something very strange is going on there: counselors sneak into the cabins at night with hypodermic needles, and kids start acting like supersmart zombies. Kim and Klavan, who balanced adventure and kid's social issues so well in City of Spies (2010), do the same in another well-rounded adventure here, as the far-out (and kind of gross) climax mixes with genuine insight into dealing with parents, fitting into a new crowd, and handling the pressures of performance. Hicks' line work is cool enough to assuage older readers who might be suspicious of the summer-camp setting. -- Booklist Ever wonder what would happen if the men of Stepford conferred with evil aliens and decided to open a summer camp? Dubbed "losers," immature Jenna and delinquent Lucas seem to be perfect candidates for the mysterious Camp Fielding, which guarantees "to prepare any child for the SATs and beyond." Most of the campers are well behaved, obedient and intelligent; in their spare time, they enjoy solving equations and learning the bucolic camp's giant maze. However, as Jenna and Lucas settle in at the camp, they begin to notice that things aren't quite right: Campers keep disappearing, and every day more of the kids go from being surly or stupid to downright perfect campers. A little snooping leads them to a disgusting and horrifying discovery about the camp, but can Jenna and Lucas impede their own transformations before it's too late? Kim and Klavan offer a sly social commentary with a fizzy dash of stomach-lurching horror. Hicks's chunky art goes to town with the revolting possibilities. Smart, disgusting fun. -- Kirkus This story by First Second veterans Kim and Klavan, who wrote City of Spies, is unconvincing in both plot and characterization. Lucas and Jenna are both supposed underachievers in an overachieving world--Jenna's sister attends Yale at age 14--but though we're told again and again, their dialogue and actions don't bear this out. Dragged off to a place called Camp Fielding to explore their "potential," they encounter a mish-mash of mysteries, none of which attain clarity. Among the clues: the smartest campers have left their cabins; girls sprout strange growths on their foreheads; a dead bird is found outside a cabin, all of which leads Jenna and Lucas to their discovery of the missing campers in a barn and some odd nefarious activities by camp directors. When the camp director admonishes, "We're only trying to help you, Lucas… Do you really want to end up in prison like your dad?" it's just one example of the heavy-handed exposition that mars the story. While readers may be pulled along by Hicks's bright and expressive drawing, the workmanlike writing and rushed plotting won't do much to keep them engaged. -- Publisher's Weekly A quick and quirky graphic novel with a bit of an identity crisis. Two misfits, Jenna and Lucas, are sent to a summer-camp-of-last-resort by their respective, exasperated parents. Despite some hate-at-first-sight, the pair, in a predictable fashion, soon start up a friendship and eventually fall for one another. Unfortunately, something funny is going on at Camp Fielding: some kids disappear while others become suspiciously more intelligent. This is a fun story, one that moves well and is illustrated with excellent full-color artwork. But there is one issue that prevents the book from receiving top marks. Brain Camp appears to be targeted to a tween audience; the majority of it would be perfectly at place in a "Goosebumps" novel, complete with snappy banter, suspicious goings-on, and a handful of kids who save the day. Similarly, the book's artwork would also appeal to younger children. However, a few scenes, including one wet dream sequence complete with stained underwear, place it in the teen section. -- School Library Journal
Advertisement