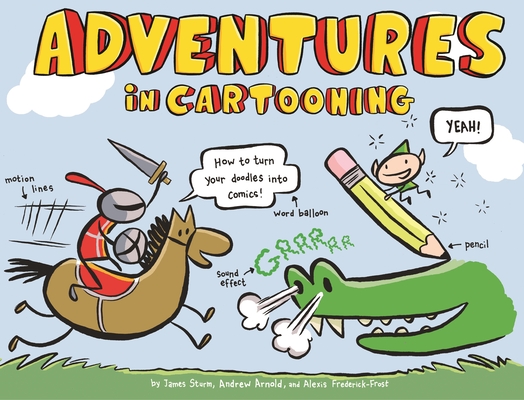 Adventures in Cartooning (Paperback)
First Second, 9781596433694, 109pp.
Publication Date: March 31, 2009
* Individual store prices may vary.
Description
In this action-packed cartooning adventure, kids will have as much fun making comics as reading them
Once upon a time . . . a princess tried to make a comic. And with the help of a magical cartooning elf, she learned how - well enough to draw her way out of an encounter with a dangerous dragon, near-death by drowning, and into her very own adventure Like the princess, young readers will discover that they already have the drawing and writing skills it takes to make a comic - they just need a little know-how. And Adventures in Cartooning supplies just that.
About the Author
James Sturm is the author of award-winning graphic novels for children and adults, including James Sturm's America, Market Day, The Golem's Mighty Swing and Satchel Paige: Striking Out Jim Crow. He is the founder of the Center for Cartoon Studies. He lives in White River Junction, Vermont.Andrew Arnold and Alexis Frederick-Frost are graduates of the Center for Cartoon Studies. Arnold lives in New York and works in publishing. Frederick-Frost lives outside of Boston and works at a library.
Praise For Adventures in Cartooning…
Starred Review in 3/1 Booklist
Not quite a how-to book, as the cover might suggest, this is rather a stupendous new high for children's graphic novels, spearheaded by comics maestro Sturm (Satchel Paige: Striking Out Jim Crow, 2007).  Ostensibly, this is the adventure of an eager knight, a sweet-toothed horse, and a magic elf hunting down a gum-chewing dragon, and those reading for the adventure itself will not be disappointed, filled as it is with humor, action, and a great girl-empowering twist. But along the way, lessons in the language of sequential art are woven seamlessly into the narrative, explaining the basics of how elements such as panels and word balloons work, while concluding bonus features offer specifics on terminology (like gutters and stems) and common symbols (like speed lines). Newcomers Andrew Arnold and Alexis Frederick-Frost, using varying page compositions to keep the sizable volume visually captivating, have constructed a tale that works just as well as a read-aloud for the very young as it does a lesson for everyone from fans of the form to the wholly uninitiated. As an examination of the medium, it's a supremely worthy spiritual legacy to Scott McCloud's seminal Understanding Comics (1993). As a straight-up graphic adventure, it may be the best of the year.
— Jesse Karp
Review in 3/1 Kirkus Reviews
An insightful and enjoyable way for kids to learn about cartooning, presented in a vibrant graphic format. In fairy-tale fashion, the Magic Cartooning Elf helps a young princess with writer's block produce her first comic. A story-within-a-story emerges, and the princess creates a deceptively silly tale of a knight, a dragon, a whale and a horse that loves candy. Along the way, the Elf drops informative hints to the reader about the structure of the story, introducing basic elements of cartooning and rudimentary techniques. Though seemingly simplistic, this multilayered composition is an excellent teaching tool to whet the appetites of aspiring young doodlers and even offers a pleasant twist in an otherwise apparently straightforward plot. Against the abundance of vanilla graphic nonfiction for kids on the market, this is unexpectedly lively. Simple cartooning basics offered after the story are quite appealing; even the most reluctant artist may be inspired to pick up a pencil and give it a shot. Entertaining and surprisingly edifying. (Graphic nonfiction. 9-12)
Starred Review in 4/1 School Library Journal
Gr 2-6–The young princess, thought to be ensconced in a tower, is missing. A "BRAVE and EAGER knight" and his less-than-fearless horse Edward learn that she has been abducted by a dragon and remains captive on Dragon Island. Assisted by the Magic Cartooning Elf, the knight goes in search of her. In this story within a story, the princess learns how to create her own cartoon. Basic principles of creating comics are taught by context, inference, and direct instruction. The humor, action, adventure, and charming characters hold readers' attention and draw them into a fantasy world of a candy-consuming dragon and knights who have been turned into vegetables. Readers learn about the uses of panels, the importance of words, and placement of thought balloons. Each tutorial panel contains clever and inventive touches that illustrate the capabilities of the format. The progression of the pink gum bubble on the first four pages is a classic. At the conclusion of this delightful tale, cartooning basics such as panels, gutters, tiers, word balloons, depiction of emotion, and movement are explained in an organized and straightforward fashion. This is a volume for kids who love comics, who enjoy an adventure filled with action and humor, are natural-born artists, or who aspire to become comic-book creators. A surefire hit.–Barbara M. Moon, Suffolk Cooperative Library System, Bellport, NY
Review in 4/2 Shelf Awareness

For anyone who loves comics, would like to make comics or wants to know what makes them work, these two titles, beautifully designed in paperback editions with French flaps, supply a great deal of insight. Adventures in Cartooning, disarming in its simplicity, at first appears to be aimed at the beginner. And certainly it has much to offer novices in terms of both textual and visual vocabulary and even baseline drawing instruction. But the book also suggests the many uses for comics, from entertainment to education. A princess who believes she "just can't draw well enough to make a comic!!!" inadvertently summons a Magic Cartooning Elf, who resembles a flying leprechaun and helps her build confidence through simple instruction. The elf explains the importance of panels (their size and pacing), speech balloons (as well as their content's type size and boldface) and the climactic plot twist; step-by-step drawing instructions appear at the end. Even seasoned comics readers may more fully appreciate the work of their favorite creators after reading this book.