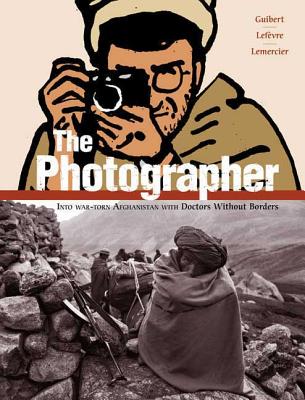 The Photographer: Into War-Torn Afghanistan with Doctors Without Borders (Paperback)
Into War-Torn Afghanistan with Doctors Without Borders
First Second, 9781596433755, 267pp.
Publication Date: May 12, 2009
Description
A NEW YORK TIMES BESTSELLER
In 1986, Afghanistan was torn apart by a war with the Soviet Union. This graphic novel/photo-journal is a record of one reporter's arduous and dangerous journey through Afghanistan, accompanying the Doctors Without Borders. Didier Lefevre's photography, paired with the art of Emmanuel Guibert, tells the powerful story of a mission undertaken by men and women dedicated to mending the wounds of war.
About the Author
Emmanuel Guibert's most recent book for First Second was the critically acclaimed Alan's War, the memoir of a WWII G.I. His close friendship with Didier Lefevre inspired him to combine art and photography to create this momentous book.
Praise For The Photographer: Into War-Torn Afghanistan with Doctors Without Borders…
"An unflinching and gripping photographic memoir, the Photographer takes you on a breathtaking journey through the best and worst humanity has to offer in times of war. Turning its pages, the reader begins to understand what it means to lose everything as a refugee of war, to cross mountains to help someone you never met, to feel the intense responsibility of being the only one able to capture the last moments of a child's stolen life. Suddenly Afghanistan, a distant land, a foreign culture, a courageous and resilient people seem closer, more familiar--more human. I love this book."
--Angelina Jolie, UNHCR Goodwill Ambassador
"The Photographer is a work of stunning originality and power.  It seamlessly blends personal storytelling, photography, and illustration to reveal the essential work of Doctors Without Borders.  It is to Didier Lefevre's immense credit that he risked his life to bring that story to light.  This amazing work gives us a window into the suffering and perseverance of the Afghan people.  Above all else, it is a truly inspiring piece of work."  -- Sebastian Junger, author of The Perfect Storm
"One of the most amazing publications I've ever read." -- Rachel Maddow, MSNBC
"There is no fighting in this book.  No great warriors are exalted.  The story is about those who live on the fringes of war and care for its human detritus.  By the end of the book the image or picture of a weapon is distasteful.  And if you can achieve this, you have gone a long way to imparting the truth about warfare." – The New York Times Book Review
"An inspiring book about a perpetually knotty country at the height of the Soviet-Afghan conflict, The Photographer should be mandatory reading for our Secretary of State and President." – The Boston Globe
"A sweeping declaration of human strength, compassion and creative power." – The LA Times
"Haunting . . . a riveting account." – The Washington Post
"Reading The Photographer is a simply stunning experience: you emerge from your time spent in Pakistan and Afghanistan with Didier and the members of MSF a better, more thoughtful person." -- Nancy Pearl, NPR
"A gripping adventure that sheds light on subjects as diverse as faith, photography, art, love, nobility, Soviet-Afghani relations, pride, masculinity, racism, and bravery.  This isn't just a great photography book, it's a great novel, a great comic, a great memoir, and a great history text." -- boingboing
"The Photographer is an absorbing graphic memoir . . . Lefevre's work is stunning, capturing not just the beauty of the terrain, but the stories etched onto the faces of the Afghan people." – The Cleveland Plain Dealer
"The Photographer will make you weep, laugh and empty your pockets to donate to the extraordinarily courageous Doctors Without Borders." – The Hartford Advocate
"The Photographer marries the amazing pictures of Didier Lefevre with the images and text of Emmanuel Guibert. The result is a blazingly honest, riveting memoir that stands as one of the best examples of graphic literature." – The Graphic Novel Reporter
"A staggering graphic achievement . . . The Photographer is a huge, huge success, graphically, narratively, humanistically." -- Newsarama
"A haunting and at times harrowing tale that highlights the cost of war on the people of Afghanistan while illuminating the humanitarian mission of the volunteers that work with Doctors Without Borders." – Publisher's Weekly Comics Week
"A compelling, one-of-a-kind reading experience . . . bringing you the real-world adventure of a young photographer risking his life with one of the bravest, most beloved humanitarian organizations in the world." – Shelf Awareness
"An incredibly honest portrayal of common figures in the middle of incredible situations." – Inkstuds
"Stunning and unique." – Playback: stl
"Perhaps no medium other than this one's could convey so tangibly what it is to deliver 'human services' in a war zone in one of the least geographically hospitable, most beautiful places on earth. A magnificent achievement." – Booklist, starred review
"An expansive narrative that ranges from a discerning glimpse of a very different and variegated culture to an at times heartbreaking chronicle of the horrors of modern warfare to a desperate struggle for survival. . . . an unforgettable reading experience." ICv2
"[A] magnificent and moving account of the human costs of war." – Library Journal, starred review
"Starkly beautiful . . . magnificent." – Publisher's Weekly, starred review
"Horrifying and glorious. . . . a part of the world that should be discussed more often." – VOYA
Advertisement