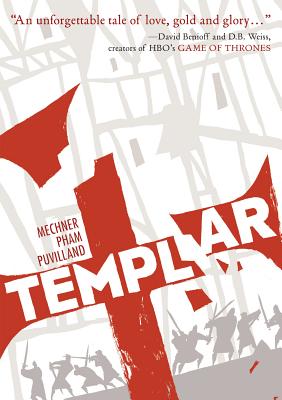 Templar (Hardcover)
First Second, 9781596433939, 240pp.
Publication Date: July 9, 2013
* Individual store prices may vary.
Description
A NEW YORK TIMES BESTSELLER

Martin is one of a handful of Templar Knights to escape when the king of France and the pope conspire to destroy the noble order. The king aims to frame the Templars for heresy, execute all of them, and make off with their legendary treasure. That's the plan, anyway, but Martin and several other surviving knights mount a counter-campaign to regain the lost treasure of the Knights Templar.
With gorgeous illustrations by LeUyen Pham and Alexander Puvilland and lush coloring from Hilary Sycamore, this 480-page, full-color, hardcover graphic novel by Jordan Mechner is itself a treasure.
About the Author
Jordan Mechner's videogames, including Prince of Persia, Karateka, and The Last Express, have received worldwide acclaim. Over 14 million Prince of Persia games have been sold around the world. He is the author of Solomon's Thieves and the creator of the Prince of Persia graphic novel, written by A.B. Sina, and he wrote the script for the Disney movie adaptation of Prince of Persia: The Sands of Time, produced by Jerry Bruckheimer and starring Jake Gyllenhaal. Mechner sold his first game, Karateka, while he was still an undergraduate at Yale, and then moved directly on to creating Prince of Persia. These were among the first games to combine arcade action with realistic animation and cinematic storytelling, and both titles became #1 bestsellers and are now considered all-time classics. In 2003, Mechner wrote and directed the documentary Chavez Ravine: A Los Angeles Story, which was shortlisted for an Academy Award. He lives in Southern California.

LEUYEN PHAM worked in animation before turning to children's books. She wrote and illustrated Big Sister, Little Sister and The Bear Who Wasn't There, and is the illustrator of numerous other picture books. Ms. Pham lives in Los Angeles, California, with her husband.

Alex Puvilland was born in France where he grew up reading his father's comic books. Looking for a life of adventure full of loose women and danger, he moved to California at the age of 22, convinced he would become a millionaire within the month. Eighteen years later he lives in Los Angeles, with his ridiculously talented wife and two extraordinary children, Leo and Adrien. He works for Dreamworks Animation, does comics whenever he has a moment, but is still not a millionaire… Alex co-illustrated Prince of Persia, the graphic novel' and Templar.
Praise For Templar…
"With Templar, Jordan Mechner combines true flair for classic adventure with a firm grasp of medieval history, for an unforgettable tale of love, gold and glory. And Pham and Puvilland bring their strong individual style to bear on 14th century France with gorgeous art that is both clean and lush at the same time. Put them together and you've got yourself a winner. Michael Curtiz should have been so lucky." —David Benioff and D.B. Weiss, creators of HBO's "Game of Thrones"

"The creative trio of Mechner, Pham, and Puvilland got their high-adventure story rolling with Solomon's Thieves (2010). What wasn't apparent in that first volume of the planned trilogy was how deeply into historically weighty territory the story would cut . . . [That history] constitutes a searing, sobering counterweight to the story's high-wire derring-do and jovial camaraderie. Add to all that a nifty Ocean's Eleven–style caper, outstanding artwork, and enough romance to get the heart invested, and you have an epic adventure comic for the ages." —Booklist (starred review)

"A wholly engaging and entertaining mix of medieval history, political intrigue, and cinematic thrills in a swashbuckling heist adventure . . . Mechner's (Prince of Persia) tight plot never misses a beat, and the book is a definite page-turner. His passion for the subject is reflected in the story's adherence to actual events and settings, ably visualized by husband-and-wife illustrators Pham and Puvilland, whose art lends itself well to the stirring narrative. It's a rollicking good time and a real gem of a book, well worth the wait and price." —Publishers Weekly (starred review)

"A 480-page graphic novel and one of the most perfect representations of what the term means . . . The enormous work has a strong protagonist with complex and even conflicting goals, a wealth of secondary characters with their own goals and stories, and a rich background in a troubled world. It even comes with a selected bibliography and a discussion of further reading. Not many other graphic novels go to that length. Mechner gives a human face to one of the most whispered-about and objectified organizations in Western history: the Knights Templar." —Jeff Provine, BlogCritics.org

"Templar is a beautifully executed historical thriller written by famed game designer Jordan Mechner (who created Prince of Persia) and drawn by Leuyen Pham and Alex Puvilland . . . A classic caper story filled with glorious and horrible swordfights, skullduggery, torture, romance, banditry, piety, bravery and treachery. I came to this not knowing much about the Templars and caring about them even less, but found that once I picked the (massive) book up, I couldn't put it down. This is some great and exciting storytelling." —Cory Doctorow (author of Homeland and Little Brother)