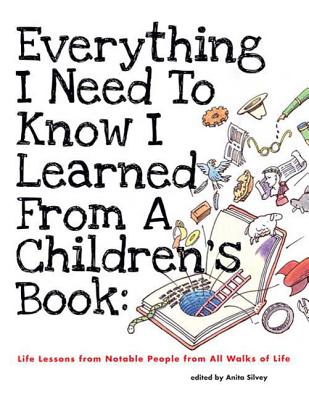 Everything I Need to Know I Learned from a Children's Book (Hardcover)
Life Lessons from Notable People from All Walks of Life
Roaring Brook Press, 9781596433953, 240pp.
Publication Date: October 13, 2009
* Individual store prices may vary.
Description
"What children's book changed the way you see the world?"
Anita Silvey asked this question to more than one hundred of our most respected and admired leaders in society, and she learned about the books that shaped financiers, actors, singers, athletes, activists, artists, comic book creators, novelists, illustrators, teachers...
The lessons they recall are inspiring, instructive, and illuminating. And the books they remember resonate as influential reading choices for families. EVERYTHING I NEED TO KNOW I LEARNED FROM A CHILDREN'S BOOK--with its full color excerpts of beloved children's books, is a treasury and a guide: a collection of fascinating essays and THE gift book of the year for families.
About the Author
ANITA SILVEY is the author of Children's Books and Their Creators, 100 Best Books for Children, 500 Great Works for Teens, and a number of other works. She currently teaches courses in children's literature at Simmons College in Boston and St. Michael's College in Burlington, Vermont.
Praise For Everything I Need to Know I Learned from a Children's Book: Life Lessons from Notable People from All Walks of Life…
"Silvey's book includes mini-essays and interviews with more than 100 accomplished Americans, from businessmen and politicians to artists, athletes, and actors. Writers like Beverly Cleary and Judy Blume are also included, showing how a love of reading is handed down from one generation to the next." —Parade magazine
"Everything I Need to Know I Learned From a Children's Book [is] a delightful nostalgic exercise in which prominent people reflect on the children's stories that shaped them." —The Wall Street Journal
"An exquisite reminder of the power of books." —Roxanne Coady, founder of R.J. Julia Booksellers, on NPR'S "The Faith Middleton Show"
"This handsome compendium is dense and delightful. And the longish title is a perfect catalyst for more conversation, in classrooms and at the dinner table. What children's book taught you something valuable? Discuss." —San Francisco Chronicle
"This collection of essays provides the titles of books which functions as a must-read list for all." —Kiwi magazine's BookClub
"This volume--perfect for any gift-giving occasion--will inspire adults to enhance their family lives and contribute to the future of our society through the good books they choose to share with their children." —BookPage
"Create[s] a moving patchwork message about the transformative powers of reading." —Publishers Weekly
"Place a book in a child's hands and you never know what will happen. In Everything I Need to Know I Learned from a Children's Book, Anita Silvey gathers the reminiscences of adults about the works that influenced them as children and the lessons that still resonate." —School Library Journal's Curriculum Connections