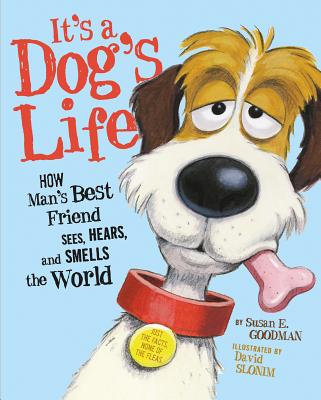 It's a Dog's Life: How Man's Best Friend Sees, Hears, and Smells the World (Hardcover)
How Man's Best Friend Sees, Hears, and Smells the World
Flash Point, 9781596434486, 32pp.
Publication Date: July 3, 2012
Description
Have you ever wondered what your dog sees when he looks at a sunset? Or what she smells when she has her nose to the ground? And what IS your pooch trying to say when he looks at you with those big puppy eyes? With a thoroughly silly text and adorable illustrations, IT'S DOG'S LIFE answers those questions and a whole lot more. Covering everything from dog breeds to their evolution and behavior, this accessible nonfiction book is sure to satisfy even the most voracious fact hounds.
About the Author
Susan E. Goodman likes taking long walks, would never put a dog in a costume, and is a soft touch when it comes to giving out treats. She is a busy author whose recent books include See How They Run: Campaign Dreams, Election Schemes and the Race to the White House and All in Just One Cookie, an ALA Notable. David Slonim's dog, Maggie, has taught him many things about dogness, including how to bark your head off when the doorbell rings, how to lie around doing nothing, and how to eat without chewing. David is the award-winning author/ illustrator of He Came with the Couch and Oh Ducky!. He has illustrated many other books, including Ten Turkeys in the Road, How to Teach a Slug to Read, Silly Tilly and Moishe's Miracle, a New York Times Top 10 Books of the Year selection.
Praise For It's a Dog's Life: How Man's Best Friend Sees, Hears, and Smells the World…
"With its goofy, informative charm, this has potential for readers hurried or reluctant as well as simply dog-loving…"--BCCB
"Children will be barking up the right tree with this enjoyable read."--Kirkus
"An agreeable and enlightening jumble of facts and humor."--Publishers Weekly
Advertisement