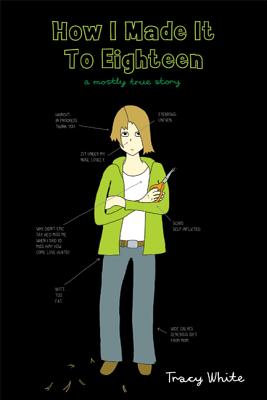 How I Made It to Eighteen: A Mostly True Story (Hardcover)
A Mostly True Story
Roaring Brook Press, 9781596434547, 151pp.
Publication Date: June 8, 2010
Description
How do you know if you're on the verge of a nervous breakdown? For seventeen-year-old Stacy Black, it all begins with the smashing of a window. After putting her fist through the glass, she checks into a mental hospital. Stacy hates it there but despite herself slowly realizes she has to face the reasons for her depression to stop from self-destructing. Based on the author's experiences, "How I Made it to Eighteen" is a frank portrait of what it's like to struggle with self-esteem, body image issues, drug addiction, and anxiety.
"How I Made It to Eighteen" is a 2011 Bank Street - Best Children's Book of the Year.
About the Author
Tracy White (www.traced.com) began publishing her work online in 1996. A native of New York City, Tracy has made comics for gURL.com, AOL, and Oxygen TV, as well as a docu-comic for the Lower East Side Tenement Museum about the experiences of immigrant teens living in New York. Her webcomic has been nominated twice for an Ignatz Award. Tracy is currently an adjunct professor at the Interactive Telecommunication Program, which is part of NYU's TISCH School of the Arts.
Praise For How I Made It to Eighteen: A Mostly True Story…
"How I Made It To Eighteen depicts the raw honest truth of a breakdown, told with great girl irony, fierceness and heart. I loved it."  -- Eve Ensler, author of The Vagina Monologues  
"How I Made it to Eighteen is part hug, part armor for anyone who battles gray days. The clarity of Tracy White's voice and graphic style transforms an intensely realized experience with wit, courage and grace. Her story pulled me in and held me deep."
--Adele Griffin, National Book Award finalist for Where I Want to Be
"White's "mostly true story" begins when seventeen-year-old Stacy Black enters Golden Meadows Hospital in an attempt to feel like herself again—whoever that is. Ostensibly Stacy works toward her goal of being happy again, earning privileges at the hospital and even becoming close friends with another patient. But she moves both forward and backward in her recovery, clinging to an unhealthy relationship with Eric, offering advice she cannot take, and refusing to be open and honest about her thoughts and actions. 
"Stacy's story of anxiety, abuse, self-harm, addiction, and depression, is also a story of an interesting, creative young woman and her friends, a veritable chorus that adds perspective and insight into Stacy's struggles. White's images are as intense and telling as the written text. Comparisons to Susanna Kaysen's Girl, Interrupted (Random House, 1993) are unavoidable: both are stories of self-discovery, memoirs of the female authors' time in mental health facilities during their late adolescence. Both Kaysen's and White's stories are fascinating and frustrating. Most significantly, both memoirs stop short of offering easy solutions to complicated problems. White's perspective is honest, often unflinchingly and quite unsympathetic to her adolescent self. Still it is made clear why Stacy is likeable and loyal. More honest than Cut (Front Street, 2000/VOYA February 2001), more intriguing even than Girl, Interrupted, White's novel uses stark black-and-white imagery to construct her frank and honest story of a fraught adolescence." -- VOYA Tracy White's "mostly true" graphic novel,
How I Made It to Eighteen
(Roaring Brook, 2010), begins when the 17-year-old narrator checks herself into Golden Meadows Hospital after smashing a glass window with her fist. Struggling with depression, exhaustion, and drug addiction, Stacy Black just wants to feel like herself again ("I just don't know who 'me' is anymore"). Described with stark candor, her recovery is heart-wrenching and hard-won, as she wrestles with issues of self-esteem and body image, hangs on to an unhealthy relationship with her boyfriend, and refuses to admit to anyone–even herself–that she has an eating disorder. Meanwhile, her interactions with the other patients reveal her to be a caring, encouraging, and creative individual, and her desire to get better is both earnest and inspiring. White's artwork is as unflinchingly honest as her narrative, and the graphic-novel format keeps the pacing slow and deliberate, allowing the emotional content to truly sink in. Interview-style commentary from four of Stacy's friends appears throughout, rounding out the main character and illustrating that these girls struggle with many of the same issues. Words and pictures work flawlessly together to paint an unsentimental, poignant, and telling picture of an arduous experience, revealing that while there are no easy answers, there's a whole lot to work toward and hope for. -- School Library Journal
Advertisement