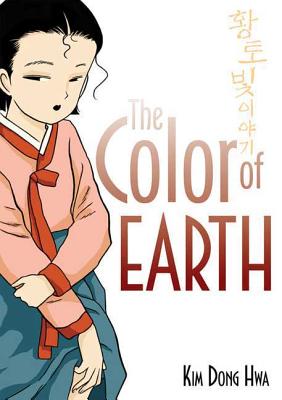 The Color of Earth (Paperback)
First Second, 9781596434585, 319pp.
Publication Date: March 31, 2009
* Individual store prices may vary.
Description
First love is never easy.
Ehwa grows up helping her widowed mother run the local tavern, watching as their customers both neighbors and strangers look down on her mother for her single lifestyle. Their social status isolates Ehwa and her mother from the rest of the people in their quiet country village. But as she gets older and sees her mother fall in love again, Ehwa slowly begins to open up to the possibility of love in her life.
In the tradition of "My Antonia" and "A Tree Grows in Brooklyn," from the pen of the renowned Korean manwha creator Kim Dong Hwa, comes a trilogy about a girl coming of age, set in the vibrant, beautiful landscape of pastoral Korea.
About the Author
Kim Dong Hwa is the author of many graphic novels - or manwha, as they are called in Korea, where he lives. His books include the popular work My Sky and the literary piece The Red Bicycle .
Praise For The Color of Earth…
Starred Review in 7/1 Booklist
The first in a trilogy, this beautifully scripted and drawn Korean manhwa provides a truly intimate but respectful journey in the company of a young girl and her widowed mother.  Spanning Ehwa's life from age seven to 16, each chapter shows the progress of her sexual awakening, much more as an emotional and social reality than a set of physical circumstances.  As Ehwa moves from the open curiosity of childhood that fixates on body parts to the mysteries of attraction and her own heartbreak, she and her mother navigate common issues that range from defending one's feelings from bullies (little boys in Ehwa's life; gossipy men in her mother's) to mutual attraction (a young monk and a visiting boy from a more monied class for Ehwa; an itinerant painter/scholar for her mother).  The mother and daughter share their stories with each other in a developmentally appropriate and credible fashion. The black-and-white art is presented in generous panels and several full-page spreads.  While there is some nudity appropriate to the narrative, both the natural and social worlds are depicted to call attention to facial expressions rather than body parts.  A variety of flowers adorns the pages, lending a palpable scent of perfume to this heady and gentle read.  This is an exquisite and feminist-positive story richly literate and imaginative.  Readers will eagerly await the subsequent volumes. – Francisca Goldsmith
Review in 4/20 PW
This manhwa—first in a trilogy—chronicling the lives of a single mother and her daughter in rural Korea is a moving and evocative look at love as seen through the eyes of one feeling it for the first time and another who longs to savor it once more. The story follows daughter Ehwa from age seven up as she discovers the physical differences between boys and girls, grows into young womanhood and undergoes her initial confusing experiences with attraction and romance. Ehwa's interest is piqued by a young Buddhist monk, a lad whose interest is mutual but doomed to futility thanks to his faith's strict code of celibacy. Meanwhile, Ehwa's mother, who was widowed at an early age, finds her loneliness soothed by the attentions of an artistic traveling salesman known only as "Picture Man." Their relationship later helps Ehwa understand much about the joys of making a romantic connection. This book has no conflict other than that common to youthful competition over boys, but it is a work of great humanity that sucks the reader in. Kim's artwork is stunning, and seldom has a male writer captured the attitudes, emotions and behavior of female characters so believably. (Apr.)
Review in 3/15 Kirkus
Manga master Kim releases the first in a trilogy of graphic novels that trace the coming of age of a young girl in pastoral Korea. Ehwa lives with her mother, a widowed tavern keeper ostracized by fellow villagers for her independent lifestyle. But an unexpected visit from a traveling salesman ignites a flame of desire in her mother that lays the groundwork for Ehwa's exploration of her own sexual awakening. Flower and water motifs course steadily through the author's erotically tinted observations of daily life, but the breathtakingly elegant line drawings of Korean landscapes elevate the use of such standard metaphors for fertility and sexuality. Furthermore, the author is able to evoke nuances of emotion from stock-character forms in a genre not known for its subtlety. Despite his best intentions, however, yang clearly overpowers the mystique of the yin in this opener: Stereotypes—among those referenced here are that women talk a lot, are emotionally fragile and must rely on men for their sexual fulfillment—dot the otherwise unblemished landscapes that saturate this enchanting meditation on love and longing. (Graphic novel. 14 & up)
Recommended Review in 5/1 Bulletin of the Center for Children's Books
In this first manhwa (Korean graphic novel) of a trilogy (based on the author's youth and set in rural Korea), Ehwa grows from a naïve six-year-old girl taunted by local boys for not having a penis to a lovely young teenager trying to decide which of two young men, a monk or the son of a local orchard farmer, she is drawn to more.  The most important relationship she has, however, is with her beautiful, young, widowed mother: as Ehwa grows and learns more about her developing body and her sexuality, her mother is there to correct misapprehensions and help her understand the complicated and sometimes contradictory emotions of becoming and being a woman.  She does this mostly by working through metaphors around their home; it helps that she too has a slowly blossoming relationship with a kind and artistic traveling sales man.  The lush drawings combine prettily stylized elements with richly realistic detail, and they turn even indelicate moments, such as a literal pissing contest between local boys, the monk's first nocturnal emissions, and Ehwa's shock at her menarche, into tenderly rendered, universal episodes of growing up.  Though the art is black and white, the textures inked in the fabrics and details of the landscapes suggest breathtaking beauty and rich color to complement the lyrical music of the text, which at times becomes poetic.  As one might expect from an artist who typically writes in the frothier genre of Korean sunjung, this is on the sweet side for a graphic novel, and yet it contains depths of sentiment that are personally revealing and affirming for young readers while they manage to confront issues of sexism and the difficulties as well as the joys of a woman rearing a daughter alone in a strongly patriarchal culture.  The themes of sexual awakening for Ehwa, and reawakening for her mother, are timeless, as is the intimacy of their relationship.  Notes from a Korean scholar follow and enrich the reading of the novel, commenting on multiple contexts for this original and appealing work. 
Review in 4/1 VOYA – 4Q 2P
A young Korean girl learns about longing and love in this lyrical manhwa (the Korean equivalent of Japanese manga).  Ehwa is only seven years old when she overhears some boys mocking her widowed mother and comparing her to a promiscuous beetle because she runs the local tavern.  In a scene that is funny, sad, and a little shocking, the boys proceed to have a peeing contest and then tease Ehwa because she does not have a "gochoo."  Each chapter in the book chronicles another spring in Ehwa's life up through her sixteenth year.  As she grows older, both Ehwa and her mother, Namwon, experience the ups and downs of love.  When Ehwa is nine, Namwon starts an affair with a traveling pictograph artist.  Ehwa, meanwhile, falls in love with both a young monk and the orchard farmer's son.  Sexuality and puberty, such as the young monk's first wet dream, are frankly depicted.  The book is also highly romantic, and relishes in poetic comparisons of women to rain and flowers. 
This title is an English translation of the first part of a manhwa trilogy originally published in Korea in 2003.  The expressive artwork captures both the beauty of the Korean countryside and the inner life of Ehwa and Namwon.  It is a quiet, dreamy book that focuses on characters rather than plot.  It should appeal to mature girls ready for a thoughtful coming-of-age story, as well as manga fans looking to try something new.  – Amy Luedtke
Review in 9/1 SLJ
Gr 10 Up–A coming-of-age story set in rural Korea a few generations ago. Ehwa is a beautiful young woman who, over a series of vignettes, learns about her body and how men and women make babies. She suffers the pain of her first unrequited love for the boy monk Chung-Myung (who also suffers from his own forbidden love for her). She also finds herself attracted to Sunoo, a rich son of an orchard owner who studies in the city. While Ehwa discovers her own desires, her widowed mother finds love again with a traveling picture salesman. The story revolves around the close relationship the women share as Ehwa becomes her mother's main ally and confidante. The illustrator uses flowers in many of the vignettes to explain aspects of love or to represent his characters and their relationships. While the book begins when Ehwa is seven and only takes her into her early teen years, the nostalgic tone and slow pacing make the title more likely to appeal to older readers. The artwork is beautiful, particularly in Hwa's depiction of the landscape and the two main characters. A good additional purchase for libraries looking for less action-oriented manga/manhwa titles.–Alana Abbott, James Blackstone Memorial Library, Branford, CT
Review in April Shojo Beat Magazine
Creator Kim Dong Hwa is a master of shojo manga in Korea (where it's called sunjung manhwa).  Hoping to reach beyond his established teenage girl audience, Hwa has produced a sweeping trilogy of books about two generations of women.  In the first book, Ehwa is a young girl who is slowly discovering her sexuality.  Her mother, a widow and restaurateur, is also grappling with her own struggle being a single mother.  Hwa compares and contrasts the dynamic between mother and daughter to great effect, and he portrays his two protagonists with all the dignity and chaos they deserve.  A lyrical poem, a tale of sexual awakening, and an homage to generations of Korean women, The Color of Earth gives us an intimate glimpse of adulthood seen through the experiences shared by a mother and her child.  Book two comes in June, and the final book will be in stores in September.  – Eric Searleman
or
Not Currently Available for Direct Purchase