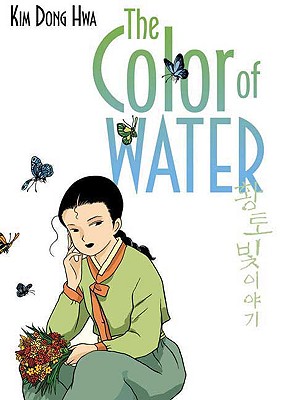 The Color of Water (Paperback)
First Second, 9781596434592, 320pp.
Publication Date: June 9, 2009
* Individual store prices may vary.
Description
When Ehwa goes to the town festival, she meets a handsome young wrestler named Duksam who's eager to catch her eye. After he wins the festival wrestling championship, he and Ehwa begin to meet, sneaking spare moments to be together. But a shadow falls on their romance when Master Cho sends Duksam away and asks for Ehwa's hand in marriage himself It is then that Ehwa discovers the pain of heartbreak and that love is always complicated.
In the tradition of "My Antonia" and "A Tree Grows in Brooklyn," from the pen of the renowned Korean manwha creator Kim Dong Hwa, comes a trilogy about a girl coming of age, set in the vibrant, beautiful landscape of pastoral Korea.
About the Author
Kim Dong Hwa is the author of many graphic novels or manwha, as they are called in Korea, where he lives. His books include the popular work "My Sky" and the literary piece "The Red Bicycle" ."
Praise For The Color of Water…
Review in 9/1 Booklist
The story of Ehwa's maturation and relationship with her mother continues at the stately and symbol-laden pace that marked The Color of Earth (2009). Now in her teens, Ehwa falls in love with a laborer who at first pays her unwanted romantic attention. Meanwhile, Ehwa's mother's own love life continues to be one as much of longing as of satisfaction. Excellent storytelling and beautiful artwork make this worthy of the included reading-group discussion guide. Recommended for all graphic-novel collections, this is essential for those that already have the first volume. — Francisca Goldsmith
Review in 12/1 VOYA
In this second installment of the Color Trilogy, teenaged Ehwa learns more about the thrills and the pains of love when she falls for Duksam, a brash and handsome young wrestler. Ehwa lives alone with her young widowed mother, Namwon, in a rural Korean village in the late nineteenth century. As Ehwa pines for Duksam and longs for their secret meetings, her mother waits for visits from her lover, a traveling salesman. Ehwa and Namwon's bond is the core of the book, as they navigate their changing mother/daughter relationship. Although Namwon does not know of Ehwa's feelings for Duksam, she realizes that Ehwa will soon be ready to marry and considers what her life will be like when Ehwa is gone. Ehwa and Duksam's dreams are threatened when Duksam's elderly master, Cho, finds out about Ehwa. Obsessed with Ehwa's youth and beauty, Master Cho is determined to marry Ehwa himself.
Like the first book of this manhwa trilogy, this sequel should appeal to any reader looking for a poetic coming-of-age story or adventurous manga fans. Ehwa's physical and emotional growth is evocatively compared to her natural surroundings. Hwa's expressive artwork and lyrical writing sensitively yet realistically explore romance and sexuality, including Ehwa's first kiss and her first masturbation experience. Humor also pervades the story, especially when Ehwa learns about sex from her more experienced friend Bongsoon.—Amy Luedtke.
Review in 9/1 SLJ
Gr 10 Up–In this installment in the trilogy set in 19th-century Korea, Ehwa falls in love with a strong young man named Duksam, while her mother continues her affair with a traveling salesman. This is a quiet and intimate story about a girl's first sexual awakenings as well as the changing nature of her relationship with her mother during her adolescence. The language and concepts are poetic–Ehwa's mother teaches her that women are like flowers while men are like fire and wind. While Hwa's artwork predominantly conveys a lot of emotion with very few carefully placed lines, there are some larger scenes of natural beauty (flowers, trees, the night sky) that are breathtaking in their detail. A Korean village is a far cry from the environment of most American teens, but the romantic themes will keep even modern girls pining for more of this story. It is not necessary to have read The Color of Earth (Roaring Brook, 2009) to understand this volume, but since readers will probably be curious to learn about Ehwa's first two loves and about what will happen with Duksam in the future, ordering the trilogy is a sound investment.–Andrea Lipinski, New York Public Library
Review in 10/1 BCCB
This sequel to The Color of Earth presents what Hwa calls "little gems from my mother's life at sixteen," that is, further adventures in love and growing up for Ehwa, the girl of early twentieth-century Korea.  She meets a fascinating new boy, experiences her first kiss, fights with her best friend, learns how to pleasure herself, reflects further on her mother's relationship with her traveling salesman, and avoids being sold into marriage with an elderly man.  As she grows and develops, she experiences her first conflicts wit her mother as she tries to keep secrets, at the same time learning as much as she can from her mother's wisdom and life experience.  Ehwa continues to be an appealing protagonist, and the book's candor about her growth gives her experiences immediacy.  The "little gems" approach compromises the narrative flow somewhat, though, and creates a sometimes tedious repetition of themes, and Ehwa's obsession with finding and understanding love to the exclusion of any other aspect of daily life becomes attenuated and overwrought.  The art maintains the delicate, luminous quality of the first book, but greater emphasis on quarreling, insecure girls and Ehwa's various expressions of angst renders the visuals a tad monotonous at times.  The final segment set up the conclusion, however, making this a necessary installment to the trilogy.  Appended is a useful reading group guide that focuses on general techniques for reading graphic novels as well as specific questions covering material from the first two books. 
or
Not Currently Available for Direct Purchase