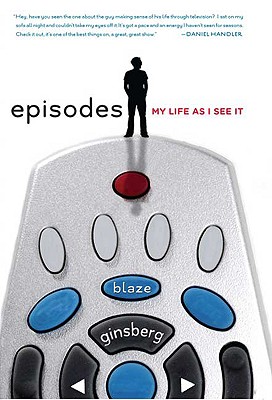 Episodes
My Life as I See It
Hardcover

* Individual store prices may vary.
Other Editions of This Title:
Compact Disc (9/1/2009)
Paperback (11/13/2012)
Description
EPISODES is a memoir like no other. Debut writer, Blaze Ginsberg, offers a unique perspective on his life as a highly-functioning autistic 21 year old. Inspired by the format of the Internet Movie Database, Blaze organizes his life events as a collection of episodes. Some episodes are still running, some are in syndication, and some have sadly come to an end. With an innovative style and approach that is all its own, EPISODES reinvents the traditional memoir; and it will inspire young readers to see the world as they've never seen it before.
Praise For Episodes: My Life as I See It…
"This memoir is like nothing else you've ever read. . . Blaze gives readers and writers of all ages an innovative approach to memoir . . . and, for those who live or work with students with diverse learning strategies, he gives us a privileged passport to a dynamic and complex inner life." —Shelf Awareness
"Hey, have you seen the one about the guy making sense of his life through television?  I sat on my sofa all night and couldn't take my eyes off it.  It's got a pace and an energy I haven't seen for seasons.  Check it out, it's one of the best things on, a great, great show."
—Daniel Handler
"This book provides memorable insight into the author's distinctive mind and spirit." —Booklist


"The format for Blaze's tale is unique and suits the story." —
VOYA

"A singular reading experience that gives insight into an equally singular way of processing and reflecting on life."—
Publishers Weekly
"Blaze is
brave
. Blaze is
bold
. Blaze blazes his own literary path with humor and pathos. Blaze has a capacity to translate the often untranslatable differences of human beings . . . A triumph!" —
Jamie Lee Curtis
"
Each passage functions as a minimalist gateway into his passions, dreams, fears and desires." —
Kirkus Reviews
 "Most importantly, Ginsberg give readers a unique glimpse into an adolescent mind that is simply wired differently."
—School Library Journal

 "Major props to Blaze Ginsberg for his tour de force memoir, EPISODES. The creative format, combined with the author's total honesty, allows easy access to his differently wired brain. Thank you, Blaze, for letting us in." —
Ellen Hopkins, bestselling author of Crank and Tweak
"I'm always happy to see examples of courage, intelligence, wit, and talent, but to find
all
these qualities in a single book is amazing. Blaze Ginsberg is my new hero. I don't know any other writer more brave or honest, and how can you say anything better about a guy and his work than that?"  
—
Terry Trueman, author of the Printz Honor book, Stuck in Neutral
"The categories 'autobiography' and 'memoir' don't fully express what this book is all about. EPISODES has all of the deep and human mystery of a novel. Here is a map to a strange and wonderful world." —
Ron Koertge, author of Stoner and Spaz
"It's a privilege and a delight to be able to see the world through the eyes of Blaze Ginsberg. EPISODES is fascinating, funny, poignant, frustrating, enlightening, unique." —
A. M. Jenkins, Printz Honor recipient for Repossessed

"Blaze Ginsberg's memoir, EPISODES, is a deep, brilliant, unapologetic, and unbelievably fascinating tour through the mind of a young so-called 'special needs' student, told with heartbreaking honesty and the kind of humor for which no adjectives currently exist. However the teenage author has been labeled by his local school system, what makes him special on the page are the gripping and absolutely original details of his own condition, and by extension, the human condition.  I cannot think of a recent book I loved more than this one. EPISODES is like nothing you will ever read. It is truly an inspiring, beautiful, life-changing, and life-affirming work of art." —
Jerry Stahl, author of Permanent Midnight
 "Refreshing." —
Jenny, age 16
Roaring Brook Press, 9781596434615, 288pp.
Publication Date: September 1, 2009
About the Author
Blaze has been writing short stories, poems, and songs since the age of nine. In 2006, he began writing his own book, a memoir that covers his years in high school and his first steps toward adulthood. Inspired by Internet episode guides such as imdb.com and TV.com, his memoir, EPISODES, describes his life as a series of TV shows in which he's appeared. Blaze puts it this way: "I started watching PBS kids' shows on TV when I was three years old and liked them very much from the start. They gave me my true voice out there in the world. I would imitate actions and situations I saw on the shows. Sometimes I let the shows speak for me when I didn't know how to say things myself. So the TV shows were like a stand-in for me." Blaze currently lives and attends college in San Diego.
or
Not Currently Available for Direct Purchase