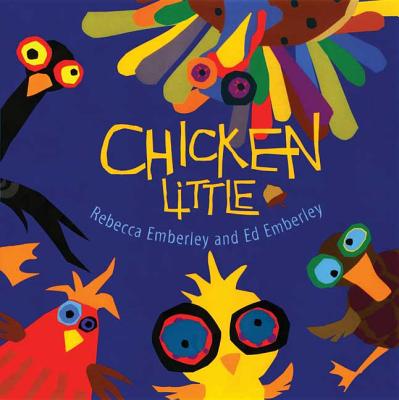 Chicken Little (Hardcover)
Roaring Brook Press, 9781596434646, 34pp.
Publication Date: March 3, 2009
Description
BONK An award-winning father-daughter team make the sky fall an entirely new way.
You may already know the tale of a not-quite-so-bright little chicken whose encounter with an acorn and gravity convinces him the sky is falling, but youOve never seen the story told this way. A brilliant collaboration brings us a bold and colorful retelling of the classic tale, as crazy-eyed Chicken and all his panicked friends run away from the sky and right into an eye-catching gatefold surprise.
About the Author
Caldecott-Medalist for DRUMMER HOFF and creator of many bestselling books including how to draw series, ED EMBERLEY lives with his wife in Ipswich, Massachusetts. REBECCA EMBERLEY has created more than 40 books for children, including a number of highly successful bilingual books. She lives in Kittery, Maine.
Praise For Chicken Little…
"Plan ahead. That's what one ditzy chick does not do in this riotously funny update of an old favorite. News that the sky is falling still precipitates panicky foolishness. But there's a better outcome for feathered friends." —San Francisco Chronicle

"It's the dynamic illustrations and book design, however, that are the real feathers in this creative team's cap. Large, boldly colored birds flap across spacious white pages; their oversize, mesmerizingly multicolored eyes telegraph anxiety and instability." —Horn Book

"The Emberleys offer what looks like cut-paper animals in well-defined shapes and eye-popping shades and set them against solid backgrounds of such pure color they seem to fly off the page." —Starred, Booklist

"This is certain to become a favorite version of this story, and young readers will gleefully welcome an ending that offers no pedantic lesson on jumping to conclusions or following the masses but turns, rather, on the luck of a sneeze at just the right moment." —Bulletin of the Center for Children's Books

"The pithy plot and magnetic illustrations will attract younger readers; the sassy storytelling and quirky humor will appeal to all ages." —Starred, School Library Journal

"An old chestnut of a tale comes to rip-roaringly glorious, hilarious, gorgeous life in the hands of two picture-book masters . . . this title is bound to become the favored version for children and adults alike." —Starred, Kirkus Reviews

"The classic tale of Chicken Little gets a hilarious makeover in the second title, thanks to veteran father-and-daughter team Ed and Rebecca Emberley." —Shelf Awareness
Advertisement