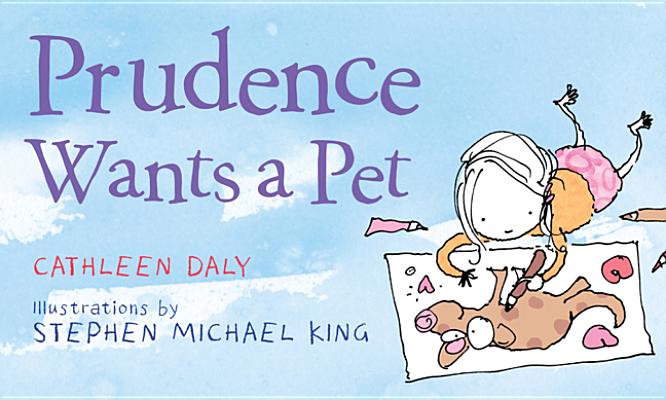 Prudence Wants a Pet (Hardcover)
Roaring Brook Press, 9781596434684, 32pp.
Publication Date: June 21, 2011
* Individual store prices may vary.
Description
Prudence wants a pet. Desperately.
"No," says Dad, "pets cost too much to keep."
"No," says Mom, "pets make noise."
But Prudence is determined. She finds her own pet. It is a…branch. But Branch isn't exactly the pet of her dreams, and neither are Twig, Mr. Round (a car tire), or her baby brother Milo.
Poor Prudence. Will she ever find the perfect pet?
About the Author
Cathleen Daly is a writer and performance artist who lives in the San Francisco Bay Area. She is the author of the novel Flirt Club, and the picture book Prudence Wants a Pet, both published by Roaring Brook Press.
Her second picture book with Roaring Brook Press, Emily's Blue Period, was the runner up for the 2015-2016 Texas Bluebonnet Award, was a Junior Library Guild Selection, a Bank Street Best Children's Book of the Year, and a Cooperative Children's Book Center Choice (University of Wisconsin).
Stephen Michael King
is an award-winning author and illustrator with many books to his credit, including
Leaf
, published by Roaring Brook Press, and he has been nominated seven times for the Children's Book Council of Australia Awards. Stephen lives in a mud brick house on an island off the east coast of Australia with his wife, two children, and a menagerie of animals.
Praise For Prudence Wants a Pet…
"In real life Prudence would probably be viewed as the weird kid with the branch, but in the literary realm she's an imaginative and determined heroine, and audiences will be glad to see her persistence rewarded." —BCCB
"Sweetly illustrated by Stephen Michael King (Leaf), 'Prudence' deftly combines funny and cute, and has a resourceful heroine too." —The New York Times Book Review
"In her first picture book, Daly (Flirt Club) chronicles Prudence's misplaced affections . . . rife with understated humor . . . . King (Leaf) pictures Prudence's passive-aggressive charade in loose pen-and-ink sequences reminiscent of Quentin Blake's sketch art." —Starred, Publishers Weekly
"A classic theme feels fresh as a squiggling kitten." —Starred, Kirkus Reviews
"I admire this book so much I have adopted it as my pet. I drag it around with me wherever I go, never letting it out of my sight." —Lemony Snicket
"Small pen-and-ink and watercolor illustrations on a white background reveal a time progression in vignettes that are spread across the pages. The humorous consequences of Prudence's experiments make this a lighthearted read about never giving up on one's dreams." —School Library Journal
"It's ultimately Daly's dry humor and her wonderfully imaginative and persistent protagonist that elevate this book above typical kiddo-wants-a-pet fare. King's deceptively simple illustrations—spare line drawings punctuated with color—are hilarious, perfectly chronicling the ups and downs of Prudence's endeavors, as well as her emotions." —Horn Book