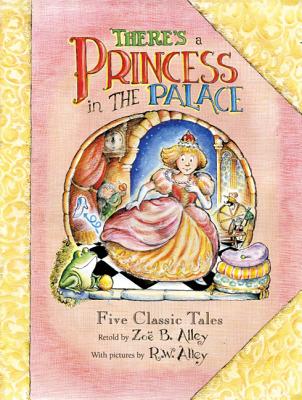 There's a Princess in the Palace: Five Classic Tales Retold (Hardcover)
Five Classic Tales Retold
Roaring Brook Press, 9781596434714, 40pp.
Publication Date: September 14, 2010
Description
In this hilarious collection of princess stories with a distinctive spin, there's Cinderella, who was, though you may not know it, Sleeping Beauty's mom; Sleeping Beauty, who didn't fall asleep because of the prick of a needle it was sheer boredom; Snow White and her diminutive friends Les, Lou, Sam, Hank, Nat, Myron, and Bethanne; the princess of frog fame; and the princess of pea fame.
About the Author
ZOe B. ALLEY is the author of the acclaimed THERE'S A WOLF AT THE DOOR, which Booklist called in a starred review, "A giggly read-aloud as well as a snortingly funny read-alone."R. W. ALLEY has illustrated over seventy books for children. He is best known for the Paddington Bear series by Michael Bond and BECAUSE YOUR DADDY LOVES YOU by Andrew Clements. The Alleys live in Barrington, RI.
Praise For There's a Princess in the Palace: Five Classic Tales Retold…
"This will enter the rotation of bedtime favorites." —Publishers Weekly, STARRED
"Marvelous for anyone with a wry sense of humor, There's a Princess in the Palace deserves a place in every library." —School Library Journal, STARRED
"Within a graphic-novel format, the tales of Cinderella, Sleeping Beauty, Snow White, the Frog Prince and the Princess and the Pea develop familial and hilarious interconnections while retaining the stories' traditional structures…Smartly hysterical." —Kirkus Reviews, STARRED
"As in their previous joint outing (There's a Wolf at the Door), author and illustrator acknowledge this huge undertaking with an oversized book that begs groups of children to gather round, find a number of amusing details in the smartly rendered comic-book panels, and share the puns and jokes." —The Horn Book
 "The Alleys (There's a Wolf at the Door, 2008) cleverly intertwine the tales of Cinderella, the princess and the pea, Snow White, the frog prince, and Sleeping Beauty into a fractured and delightfully bewitched royal family record." —Booklist
Advertisement