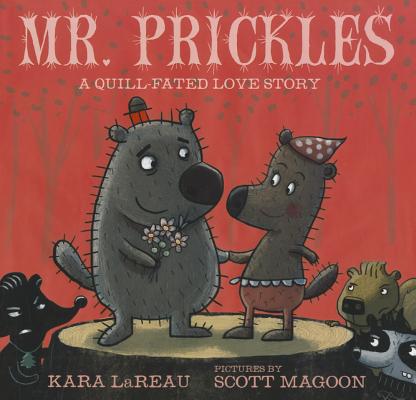 Mr. Prickles: A Quill-Fated Love Story (Hardcover)
A Quill-Fated Love Story
Roaring Brook Press, 9781596434837, 32pp.
Publication Date: December 20, 2011
* Individual store prices may vary.
or
Not Currently Available for Direct Purchase
Description
Mr. Prickles was not a particularly friendly fellow. He was tough to get close to . . . because he was a porcupine.
"You're not cute like us," said Raccoon.
"Or cuddly like us," said Chipmunk.
"Or playful like us," said Skunk.
"I am," said Mr. Prickles. "On the inside."
Poor Mr. Prickles was very lonely-until the day he met Miss Pointypants. Could she be the perfect prickly companion for moonlit strolls and midnight feasts? Was love in the air for even the sharpest of sorts?
About the Author
Respected editor Kara LaReau collaborated with Scott Magoon on "Ugly Fish," "Rabbit and Squirrel, " and for Roaring Brook Press, "Otto: The Boy Who Loved Cars." She lives in Providence, Rhode Island with her husband and their two cats.

Scott Magoon has illustrated many successful books including "Spoon" by Amy Krause Rosenthal and the aforementioned "Ugly Fish, " "Rabbit and Squirrel, " and "Otto: The Boy Who Loved Cars." He lives in the Boston area with his wife and two sons.
Praise For Mr. Prickles: A Quill-Fated Love Story…
"Young audiences will be amused by the humorous character names and pun-filled text…"--BCCB
"'Mr. Prickles: A Quill-Fated Love Story"' is a variation on the 'just the way you are' theme. It tells the story of an ostracized porcupine who finds love and self-acceptance with a certain Miss Pointypants. The author  seems to have great fun with the porcupine's linguistic potential (she gleefully mixes in phrases like 'prickly regard,' 'pointedly' and 'it was pointless')."--NYTimes.com
"Puns and droll humor pepper this story of lonely Mr. Prickles, a porcupine who becomes justifiably unfriendly after struggling unsuccessfully to befriend the other woodland creatures."--
School Library Journal
 "The simple, though sometimes challenging to learn, you're-perfect-just-the-way-you-are and like-likes-like themes are presented with short sentences, frequent dialogue, good pacing, and clear nocturnal art…"--
Booklist
 "LaReau's well-paced, pointedly pun-filled text shines a sympathetic light on her lonely protagonist, and the playful (and cute and cuddly) illustrations bring out the best in the spiky hero. Magoon's use of color and varying perspectives in the nighttime scenes effectively convey mood and intensify the story's emotions."--
Horn Book Magazine
"It looks as if Mr. Prickles will never fit in with the cast of furry forest creatures that cavort each night. This makes him feel "Very prickly." That is, until he meets Miss Pointypants." --Kirkus Reviews
"…the 'be yourself' message goes down easy in this tale of misfits, thanks to humor that ought to amuse readers of all ages." --
Publishers Weekly
Advertisement