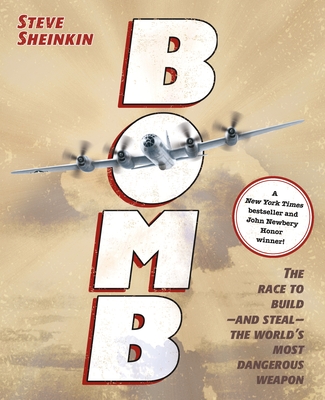 Bomb (Hardcover)
The Race to Build--And Steal--The World's Most Dangerous Weapon
Flash Point, 9781596434875, 272pp.
Publication Date: September 4, 2012
* Individual store prices may vary.
Description
In December of 1938, a chemist in a German laboratory made a shocking discovery: When placed next to radioactive material, a Uranium atom split in two. That simple discovery launched a scientific race that spanned 3 continents. In Great Britain and the United States, Soviet spies worked their way into the scientific community; in Norway, a commando force slipped behind enemy lines to attack German heavy-water manufacturing; and deep in the desert, one brilliant group of scientists was hidden away at a remote site at Los Alamos. This is the story of the plotting, the risk-taking, the deceit, and genius that created the world's most formidable weapon. This is the story of the atomic bomb.
Bomb is a 2012 National Book Awards finalist for Young People's Literature.
Bomb is a 2012 Washington Post Best Kids Books of the Year title.
Bomb is a 2013 Newbery Honor book.
About the Author
Steve Sheinkin is the award-winning author of several fascinating books on American history, including The Notorious Benedict Arnold, which won the YALSA Award for Excellence in Nonfiction for Young Adults and the Boston Globe/Horn Book Award for nonfiction. His recent book Bomb was a Newbery Honor Book, National Book Award finalist, and winner of the Sibert Award as well as theYALSA Award for Excellence in Nonfiction for Young Adults. He lives in Saratoga Springs, NY.
Praise For Bomb: The Race to Build--And Steal--The World's Most Dangerous Weapon…
"This superb and exciting work of nonfiction would be a fine tonic for any jaded adolescent who thinks history is "boring." It's also an excellent primer for adult readers who may have forgotten, or never learned, the remarkable story of how nuclear weaponry was first imagined, invented and deployed—and of how an international arms race began well before there was such a thing as an atomic bomb."--The Wall Street Journal
"This is edge-of-the seat material that will resonate with YAs who clamor for true spy stories, and it will undoubtedly engross a cross-market audience of adults who dozed through the World War II unit in high school."--BCCB, starred
"...reads like an international spy thriller, and that's the beauty of it."--School Library Journal, starred
"[a] complicated thriller that intercuts action with the deftness of a Hollywood blockbuster." --Booklist
 "A must-read…"--
Publishers Weekly
, starred 
"A superb tale of an era and an effort that forever changed our world."--Kirkus, starred