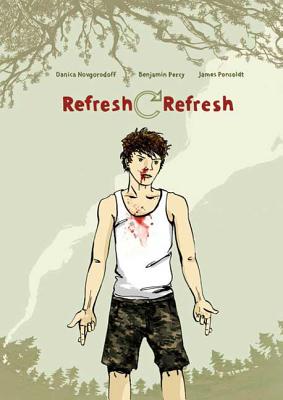 Refresh, Refresh (Paperback)
First Second, 9781596435223, 138pp.
Publication Date: September 29, 2009
* Individual store prices may vary.
Description
Fathers, sons, and the war that comes between them.   There's nothing Josh, Cody, and Gordon want more than their fathers home safely from the war in Iraq -- unless it's to get out of their dead-end town.  Refresh, Refresh is the story of three teenagers on the cusp of high school graduation and their struggle to make hard decisions with no role models to follow; to discover the possibilities for the future when all the doors are slamming in their faces; and to believe their fathers will come home alive so they can be boys again. 
About the Author
Originally from Louisville, Kentucky, Danica Novgorodoff is a writer, painter, photographer, and comics artist who now lives in New York City where she works as a graphic designer for First Second Books. She has also worked as a horse trainer in Virginia, an assistant to photographer Sally Mann, and an artist review writer for galleries in Chelsea and SoHo. In 2006 she won the Isotope Award for her mini-comic, A Late Freeze, which was later nominated for an Eisner award. Her last book was the graphic novel Slow Storm, which was a New York Magazine Best Graphic Novel of 2008. Benjamin Percy's story, Refresh, Refresh, was first published in the Paris Review and is included in Best American Short Stories 2006.James Ponsoldt is a writer and director. His first feature film, Off the Black, premiered at Sundance in 2006.
Praise For Refresh, Refresh…
"A resonant, slow-building tale of the boys—or men, in the eyes of the armed forces—left behind, and senselessly left fatherless, by war." -- Booklist "Disturbing and intense . . . a thoughtful examination into these very contemporary characters' psyches." -- Kirkus Reviews 
Review in 9/1 Booklist
Three small-town Oregon boys whose fathers are off fighting in Iraq relentlessly push each other to become men in this somber graphic novel. They brawl violently with each other in backyards, sneak into bars, and peer into the scopes of rifles pointed at more than just deer, all the while wondering desperately what to make of their empty email inboxes and the deafening silences coming from their fathers. While all of the boys' stories are presented, the one whose future wavers between college and combat becomes the focal point. Novgorodoff's artfully misshapen lines and grotesque facial expressions capture the uneasy quality of her story, the tumultuous nature of her characters' psyches, and the explosive instability of their unfocused rage. But by far the most striking sequence comes near the end, where washed-out inks hint at the suffocating myopia of the Iraqi desert and also serve as a bleak metaphor for the boys' emotional states. A resonant, slow-building tale of the boys—or men, in the eyes of the armed forces—left behind, and senselessly left fatherless, by war.
Review in 9/15 Kirkus Reviews
Three young men in the Pacific Northwest deal with the wartime absences of their fathers coupled with their own adolescent angst. Cody, Josh and Gordon struggle to deal with their feelings during this confusing time. Answers do not come easily to the boys and usually manifest in a form of violence; the trio routinely boxes to "make each other tougher." Split into three narrative threads that combine and then separate, this graphic novel routinely intertwines and then unwinds, showing the dynamics of the boys together and then in their homes. Each boy is desperately waiting for his father to contact him (they pine in front of their computers, constantly refreshing their e-mail for new messages), although when one of the boys receives unwelcome and disturbing news, the group bands together and lashes out viciously. After this action, the group makes a shocking decision that affects their impending futures. Disturbing and intense, this proves to be a thoughtful examination into these very contemporary characters' psyches. (Graphic fiction. YA)
Review in 4/1 VOYA
The title of this graphic novel comes from the act of refreshing an e-mail inbox often to see if anyone has replied, in this case, teens' fathers who have gone off to Iraq to fight in the war. Cody, Josh, and Jordan miss their dads and stay busy by beating each other up in the back yard (to make themselves stronger), hang out at the local bar and drink alcohol, hook up with older women, and participate in a slew of other activities that are pretty risky but make sense, feeling left behind. Of the three, Josh's future looks the least bleak as he receives an acceptance letter to college.
The story is well drawn, with the damage from the fight scenes among the teens evidenced in painful black eyes and blood. The day-to-day living is also painful when the power has been shut off because the bills are not being paid. Although the story is never really upbeat, it will probably ring familiar to readers whose parents have gone off to fight in the war or are simply absent for various other reasons. It is a good book for discussion as it touches on tough topics with which many teens may be wrestling, whether or not their parents play a large role in their lives. 
Review in 11/09 SLJ
Gr 10 Up–Outsiders in their small Oregon town, Josh, Cody, and Gordon relentlessly beat one another to a pulp in Josh's backyard. They fight for practice so they can defend themselves against anyone who hurts them. All three teens must help care for their families after their fathers ship out to fight in Iraq. Josh lives with his grandfather, Gordon is the man of a house full of brothers and sisters, and Cody is the main caregiver for his younger brother, who wants to be a soldier, too. The boys obsessively click "refresh" to check for new emails from their fathers, messages that sadly do not come often. This raw story shows the harsh realities of life when a parent is deployed. The teens encounter enthusiastic recruiters, bullies at school, and vicious physical and emotional hits. Particularly striking is their reaction when the father of one of their school tormentors is killed overseas. The illustrations are realistic and reflect the intense emotions that dominate this gripping and moving tale.–Laura Amos, Newport News Public Library, VA