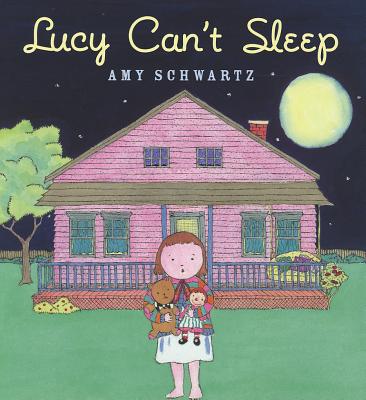 Lucy Can't Sleep (Hardcover)
Roaring Brook Press, 9781596435438, 32pp.
Publication Date: August 7, 2012
* Individual store prices may vary.
Description
When wide-awake Lucy can't fall asleep she . . . "Climbs out of bed, "
"Wiggles her fingers, "
"Wiggles her toes, "
"Scratches itches, "
"Itches scratches, "
"Buttons buttons, "
"Blows her nose."
But Lucy still can't sleep.
Amy Schwart's gentle and reassuring story, along with her warm and comforting paintings, is sure to beguile restless children.
About the Author
Amy Schwartz has written and illustrated many classic books for children, including Bea and Mr. Jones, a Reading Rainbow featured title, What James Likes Best, winner of the Charlotte Zolotow Award, and the Roaring Brook Press titles, "A Teeny Tiny Baby, Tiny & Hercules, Starring Miss Darlene, " and "A Beautiful Girl." She lives in Brooklyn, New York.
Praise For Lucy Can't Sleep…
No wonder sleep is a popular topic for children's books. Amy Schwartz's latest begins with the matter-of-fact statement "Lucy can't sleep." This, despite the gingerbread cuteness of her impeccably appointed room, with its gently carved wooden bed, flowered wallpaper and stuffed lambs. Lucy, it seems, has already been instructed in the usual tricks — counting sheep, baby otters, mountain goats and the like. She has tried wriggling fingers and toes, scratching itches and itching scratches.
Next, Lucy searches for potentially "lost" stuffed animals. She glides down the staircase banister and rifles the refrigerator. Naturally, there is strawberry shortcake and chocolate pudding to be found. At one point, she wanders outdoors and surveys a vista that recalls the delectable "Babyberry Pie," also illustrated by Schwartz. That book's old-timey sweetness characterizes this one too. All ends well and fast asleep. There's a difference though. In "Babyberry Pie," the parents participated happily in tucking the baby in. But not one parent is visible in "Lucy Can't Sleep." If only life were this way. --
New York Times
(online)
"The book's quaintness and coziness will attract children and may lull them off to sleep at last."--Booklist
"…a lyrical investigation of the high tech world of the fifteenth century."--BCCB
"A bedtime book with sweetly anarchic undertones (why stay in bed?), in which verse and artwork lull and soothe to soporific effect."--Kirkus, starred
"Charming watercolor-and-ink illustrations combine with a meandering, singsong text in this lovely bedtime book."--School Library Journal
"Schwartz (Willie and Uncle Bill) employs nursery colors, cozy patterning, and lots of attention to home furnishings…to provide her heroine with the orderly, reassuring setting that emboldens her to go adventuring."--Publishers Weekly
"…refreshing in its child-friendly invitation to stay up just a little bit longer." —Horn Book
or
Not Currently Available for Direct Purchase