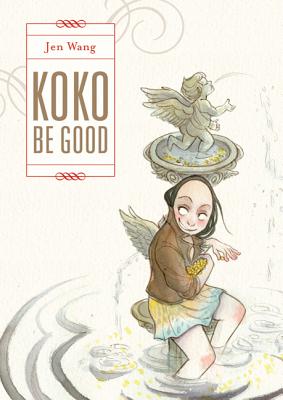 Koko Be Good (Paperback)
First Second, 9781596435551, 299pp.
Publication Date: September 14, 2010
* Individual store prices may vary.
or
Not Currently Available for Direct Purchase
Description
Koko's always got a new project cooking, even though they usually end in total disaster. This time will be different, Koko promises herself. This time, she's decided to Be Good. But how can a girl whose greatest talent is causing trouble get her act cleaned up? If she's being honest with herself, Koko isn't even sure what "being good" means.
Jon knows what being good means, and that's why he's going to Peru to support his girlfriend's humanitarian mission. That's good, all right, but is it what he wants? Jon has a promising future as a musician. Is he ready to give that up maybe forever?
Two very different people, both struggling for direction, find their way into each other's lives in Jen Wang's first graphic novel. Honest, wrenching, and incredibly funny, Koko Be Good is a tour-de-force debut about human nature and the inhuman efforts we make to find ourselves.
About the Author
Jen Wang grew up in the San Francisco Bay area, where she lives today. She enjoys nature shows, biking, libraries, and something new all the time. She has also lived in Portland, Oregon, and Taiwan.
Praise For Koko Be Good…
A richly woven story of three misfits, each of whose intersecting lives threatens to crash and burn, but who survive and even thrive emotionally, unfolds in gorgeous watercolor-hued panels and tight, credible dialogue. Koko is a 20-something who really wants to be "good," although she has a tendency to do just the wrong thing so often that others have difficulty trusting her motives. Slightly older Jon wants to join his older girlfriend in do-good work in Latin America, but she drops him. Faron, a teenager somewhat younger and less independent than Koko, works in a Vietnamese restaurant, where he is the scapegoat. All three characters are fully developed, delightfully drawn, and actively portrayed in contemporary San Francisco, whose neighborhoods also come to life on the large pages. This is stellar storytelling and art, opening a complex but accessible window onto real-life situations and self-discoveries. It should be most appealing to literary graphic-novel readers, other readers willing to crossover for the sake of a high-quality bildungsroman, and anyone else looking for beautiful and subtle art. Much more than a boy meets, or loses, girl affair, the story of Koko, Jon, and Faron is a multicultural fable in which universal truths are made fresh and inspiring. -- Booklist, starred review
When readers dive into Wang's first graphic novel, they may at first believe they have another slacker coming-of-age story on their hands. And to some extent, that is true, although it travels in unexpected directions. Wang follows three characters as they struggle to define their places in the world. Jon is a recent college graduate planning to follow his older girlfriend to Peru to work for an orphanage, and his story, which opens the book, feels the most familiar. In the midst of his existential crisis, he meets Koko, an eccentric, sometimes almost feral young woman who ricochets from encounter to encounter, often leaving a trail of chaos in her wake. The relatively slim plot follows them, as well as Faron, a slight teenage boy, as they wrestle with what it means to be good and how goodness can be combined with happiness. Wang's strength is her art work. The watercolor panels, with an ochre template, are stunning and emotionally evocative, and the book is at its best when she tells the story through images. At times the dialogue sounds too much like a late-night college bull session, especially when it turns to philosophy. But Wang's delicate images, and her ability to capture the earnest emotions of her characters, should pull in all but the most hard-hearted reader. -- Publisher's Weekly
Advertisement