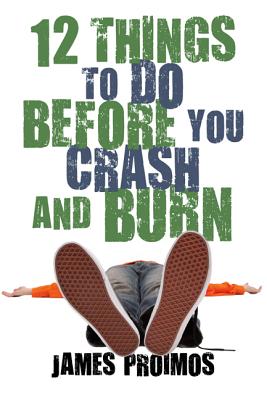 12 Things to Do Before You Crash and Burn (Hardcover)
Roaring Brook Press, 9781596435957, 121pp.
Publication Date: November 8, 2011
Description
James "Hercules" Martino has until the end of the summer (a.k.a. two weeks) to accomplish the
twelve tasks given to him by his Uncle Anthony. The tasks will take him to the far reaches of Baltimore, lead him to a Beautiful and Unattainable Woman, and change the way he sees his past, present, and future.
Spare in words, but abundant in big ideas and laugh out loud humor, James Proimos has crafted a novel for any teenager who's ever had a complicated relationship with a parent. In other words, everyone.
About the Author
James Proimos is married to a Beautiful and Attainable Woman and they live on a small horse farm outside of Baltimore. He has written several books for children, but 12 Things to Do Before You Crash and Burn is his first novel for young adults.
Praise For 12 Things to Do Before You Crash and Burn…
"Hercules charms readers with humor and honesty…"--School Library Journal "This fun, slim book has a very interesting premise: a boy who happens to be nicknamed Hercules and who has recently lost his father is assigned twelve tasks (labors) to complete when he goes to stay with his uncle over the summer." --VOYA "Proimos fully inhabits the mind and voice of his hero, whose almost mythic journey offers moments hilarious, heartbreaking, and triumphant." --Publishers Weekly, Starred Review "Told in short, near-poetic vignettes, the chapters of Proimos' first teen novel are packed with plenty of small details and genuine moments of ridiculous humor." --Kirkus Reviews
Advertisement