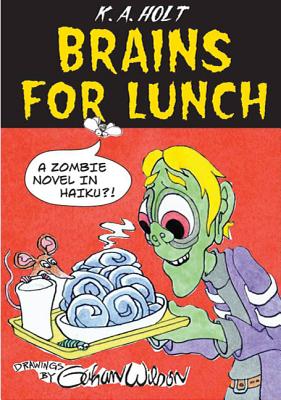 Brains For Lunch
A Zombie Novel in Haiku?!
Hardcover

* Individual store prices may vary.
Description
Goofy, gross, demented, and delicious! K.A. Holt has created a classic tale of middle-school angst...the difference being that this illustrated novel is written entirely in Haiku.

Middle school is tough enough, but it's even worse when your classmates include lifers (regular humans), nasty blood-sucking creatures called chupacabras, and zombies. Loeb (pun fully intended) falls into the last category and, unfortunately for him, he has a huge crush on a human girl (major no-no). Can he push past the stereotypes and the different cliques to win his school's haiku competition and impress the girl?

In scenes set around a lunch table (the menu: brains) and around the school, eyes roll and jaws drop (literally). Also featured in the cast of characters is Carl, a chupacabra (bloodsucking critter) and Mrs. Fincher, a sympathetic and seductive librarian.
Praise For Brains For Lunch: A Zombie Novel in Haiku?!…
"A funny, irreverent, and unconventional verse offering that's sure to find wide curricular appeal." —Booklist

"Gross-out humor and romantic tension enmesh in this clever novel told in haiku…a standout choice for reluctant readers." —Publishers Weekly, STARRED review

"Middle school poetry geeks will enjoy this funny, irreverent novel in verse." —Library Media Connection

"This intriguing book definitely has an audience–one that appreciates, quite literally, tongue-in-cheek humor." —School Library Journal

"The shuffle-and-stop rhythm of haiku is amusingly appropriate for the zombie narrator, and Holt's use of language is consistently clever and playful." —SLJ Teen
Roaring Brook Press, 9781596436299, 96pp.
Publication Date: August 17, 2010
About the Author
GAHAN WILSON is an author, cartoonist, and illustrator. His cartoons have appeared in Playboy, The New Yorker, Gourmet, Punch and The National Lampoon. Fifteen individual collections of his work have been published, including Is Nothing Sacred? Playboy's Gahan Wilson, The Man in the Cannibal Pot, and and then we'll get him! Wilson has also written and illustrated a number of children's books, including the adventures of Harry, the Fat Bear Spy. For adults, Wilson has written two mystery novels, Eddy Deco's Last Caper and Everybody's Favorite Duck, and short stories which have appeared in Playboy, Omni, The Magazine of Fantasy & Science Fiction, and numerous anthologies.  Other projects include graphic novels adapting the works of Ambrose Bierce and Edgar Allan Poe, a set of trading cards featuring Wilson's demonic baseball players, and his first animated work, a cartoon short, "Gahan Wilson's Diner," released by 20th-Century Fox.

K.A. Holt is a writer, a terrible cook, and a mother of three (not necessarily in that order). When she's not busy imagining how she would survive a zombie apocalypse, she's busy imagining how she will survive the day. Kirkus and Publishers Weekly praised her first book for children, MIKE STELLAR: NERVES OF STEEL, with words like precocious and complex, and savvy and sharp.