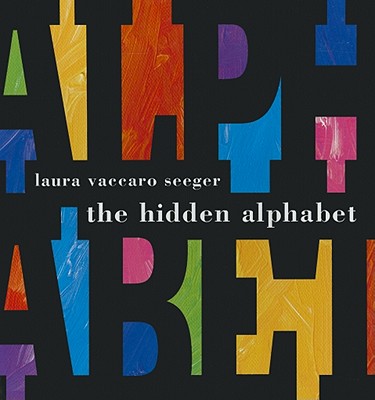 The Hidden Alphabet (Hardcover)
Roaring Brook Press, 9781596436374, 32pp.
Publication Date: November 23, 2010
* Individual store prices may vary.
or
Not Currently Available for Direct Purchase
Description
Open this unusual book and you'll be greeted by a striking image of an arrowhead, surrounded by a simple black frame. Lift the frame and the arrowhead will be magically transformed into the letter A. And so it goes, from Balloons, Cloud, and Door, through Leaf and Mice, to Yolk and Zipper. Bold distinctive images and a simple yet ingenious format make this a concept book, and a gift book, to treasure.
About the Author
Laura Vaccaro Seeger is a "New York Times" best-selling author and illustrator and the recipient of a 2008 Caldecott Honor, Theodor Seuss Geisel Honors for both 2009 and 2008, a 2007 "New York Times" Best Illustrated Book Award, and the 2007 Boston Globe Horn Book Award for Best Picture Book. Her books include "First the Egg" and "Dog and Bear," among others. Raised on Long Island, New York, Seeger began drawing at two years old and never stopped. For as long as she remembers, she wanted to write picture books. She received her B.F.A. degree at the School of Fine Art and Design at SUNY Purchase in Westchester, New York, and then moved to Manhattan, where she worked as an animator, artist, and editor in the network television business.Seeger lives in Rockville Centre, Long Island, with her husband, Chris, their two sons, Drew and Dylan, and their dog, Copper. She loves painting, surfing, tennis, playing the piano, and spending time with her family. She takes long walks at the beach every day and paints in her studio every night."
Praise For The Hidden Alphabet…
"It's simple and elegant, and makes perfect sense for preliterate persons."—Wall Street Journal
Publishers Weekly Starred Review
 Seeger, the niece of folksinger Pete Seeger, has devised an artful lift-the-flap ABC. From A to Z, labeled die-cut openings in glossy black paper purport to show an "arrowhead," "balloons," a "cloud" and a "door." When readers peek beneath the paper frames, however, they discover a letter of the alphabet. What look like two horizontal white "eggs" on a gingham napkin are also the indentations in a letter E. Two parallel "nails," tilting on a diagonal, turn out to be the slanted angles of the capital N. A plump white "quotation mark" against a red background doubles as the oval center of a Q. And the curvaceous hollow body of a "ukelele" forms the dip in the letter U. Seeger inverts positive and negative space in her paintings, whose warm colors glow from the windows in the light-absorbing black paper; she even incorporates die-cuts into the dust jacket. Her words and images indicate which letter lurks under each flap, and her variably sized rectangular windows give tantalizing hints to the "hidden" shapes. The design is unerringly elegant: each flap lifts from bottom to top to reveal a solid, symmetrical letter form, and the 26 folded pages, printed on tough heavyweight stock, make for a thick but not unwieldy volume. Seeger makes an interactive game of the alphabet and fashions a sophisticated presentation.   
School Library Journal
 From the black book jacket with cutout openings for each letter of the title to the vibrant, painterly strokes of yellow on the endpapers, Hidden Alphabet is a visual delight. A black mat frames an object on each page. When it is lifted, each of these objects becomes a significant part of the letter's negative space (e.g., two balloons form circles to make the openings in the letter "B"). This clever trick of changing viewers' perspective from foreground to background will keep readers turning the pages to see the other optical illusions this pictorial byplay produces. Because of the way they are formed, the letters are not always completely conventional in shape. This may challenge very young children to identify them, but readers of any age will enjoy seeing a mouse turn into an "M" made of cheese with a few tiny chunks nibbled out of it. Seeger's interesting word choices-arrowhead, inkblot, olive, partridge, quotation mark, yolk-and her sophisticated paintings make this a fascinating artistic experience as well as a learning opportunity.  
Booklist
 Seeger's Hidden Alphabet uses a timeworn approach to A through Z that matches each letter with a word that begins with that letter, then adds a lift-the-flap format and a striking graphic design to transform the book into something new. Each shiny, thick black page features a cut-away through which children can view vibrantly colored objects, such as balloons. By lifting the flap, children will be surprised to discover that the object actually forms part of a letter. Kids may need help recognizing some of the objects featured, but the design is bold and clean enough to make the letters easily discernible. It is a book that manages to be both child friendly and visually exciting.   
Kirkus Reviews
Starred Review
:  An outstanding alphabet book...Each page comes as an ingenious surprise...Beautifully designed, fascinating to browse, and eminently successful.
A Kirkus Editor's Choice Best Book of 2003
Child Magazine
:  BEST BOOK OF 2003 award by Child Magazine   
The Bulletin of the Center for Children's Books:
 Recommended book: ...Each page is executed with polish and panache...This is begging for use in art class...  
School Library Journal
Starred Review:
 Hidden Alphabet is a visual delight...Seeger's sophisticated paintings make this a fascinating artistic experience as well as/a learning opportunity.   
Horn Book
:  ...A Concept Book with a capital C...This is great bookmaking, and a snazzy-though sophisticated-addition to the alphabet bookshelf.   
American Library Association/ALA Notable Book, 2004
A New York Public Library Best Book for Reading and Sharing, 2003
NBC Today Show Best Book for Gift Giving, 2003 

Advertisement