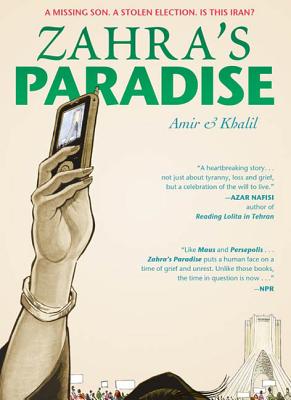 Zahra's Paradise
Hardcover

* Individual store prices may vary.
Description
A NEW YORK TIMES BESTSELLER Set in the aftermath of Iran's fraudulent elections of 2009, Zahra's Paradise is the fictional graphic novel of the search for Mehdi, a young protestor who has vanished into an extrajudicial twilight zone. What's keeping his memory from being obliterated is not the law. It is the grit and guts of his mother, who refuses to surrender her son to fate, and the tenacity of his brother, a blogger, who fuses tradition and technology to explore and explode the void in which Mehdi has vanished.

Zahra's Paradise weaves together fiction and real people and events. As the world witnessed the aftermath of Iran's fraudulent elections, through YouTube videos, on Twitter, and in blogs, this story came into being. The global response to this gripping tale has been passionate—an echo of the global outcry during the political upheaval of the summer of 2009.

Zahra's Paradise is a first on the internet, a first for graphic novels, and a first in the history of political dissidence. Zahra's Paradise is being serialized online.

Zahra's Paradise is a Publishers Weekly Best Comics title for 2011.
Praise For Zahra's Paradise…
"Powerful...Through acerbic dialogue and black-and-white comic-book style drawings—sometimes dramatic, sometimes tongue-in-cheek—the authors set out to expose the repressive workings of the state and the ruin it visits on individual lives." —The New York Review of Books
First Second, 9781596436428, 272pp.
Publication Date: September 13, 2011
About the Author
Amir is an Iranian-American human rights activist, journalist and documentary filmmaker. He has lived and worked in the United States, Canada, Europe, and Afghanistan. His essays and articles have appeared far and wide in the press. He is the author of Zahra's Paradise.

Khalil is the co-author of the New York Times bestseller Zahra's Paradise, which was published in 16 languages and nominated for two Eisner Awards. Born in Algeria, Bendib has lived in Berkeley, CA since the 1980s. After eight years as political cartoonist at the San Bernardino County Sun, Khalil now distributes his cartoons to 1700 independent publications nationwide and co-hosts a weekly one-hour show, Voices of the Middle East and North Africa, on Pacifica station KPFA.