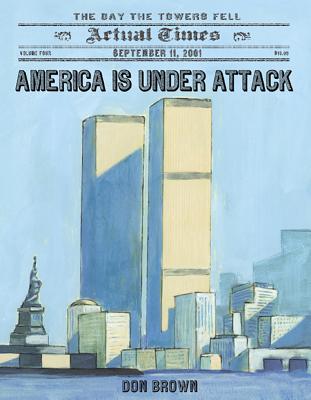 America Is Under Attack: September 11, 2001: The Day the Towers Fell (Hardcover)
September 11, 2001: The Day the Towers Fell
Flash Point, 9781596436947, 64pp.
Publication Date: August 16, 2011
Description
One of "School Library Journal"'s Best Nonfiction Books of 2011
One of "Horn Book"'s Best Nonfiction Books of 2011
On the ten year anniversary of the September 11 tragedy, a straightforward and sensitive book for a generation of readers too young to remember that terrible day.
The events of September 11, 2001 changed the world forever. In the fourth installment of the Actual Times series, Don Brown narrates the events of the day in a way that is both accessible and understandable for young readers. Straightforward and honest, this account moves chronologically through the morning, from the terrorist plane hijackings to the crashes at the World Trade Center, the Pentagon, and Pennsylvania; from the rescue operations at the WTC site in New York City to the collapse of the buildings. Vivid watercolor illustrations capture the emotion and pathos of the tragedy making this an important book about an unforgettable day in American history.
About the Author
Don Brown is the author and illustrator of many highly praised picture-book biographies and histories for children, most recently, He Has Shot the President. He lives on Long Island, New York.
Praise For America Is Under Attack: September 11, 2001: The Day the Towers Fell…
"Explaining the events of September 11, even 10 years afterward, is a task fraught with emotion. Brown's sturdy yet empathetic tone seems just right." --Publishers Weekly Online  "Illustrated on every spread with line-and-wash pictures that are forthright but never sensational, the book is superbly focused and completely honest." --Horn Book Magazine, Starred review "Brown's compelling narrative chronologically recounts the morning's events in a tone both straightforward and compassionate, without resorting to sensationalism." --School Library Journal, starred review "Brown's take…is a model of straightforward, earnest nonfiction writing that brings things to many an uncomfortable point—that cannot be avoided—without going too far." --Booklist "Ten years' distance from the events allows Brown to include in his carefully crafted narrative some details missing in even the best of the children's titles released closer to September 11, 2001." --BCCB
Advertisement