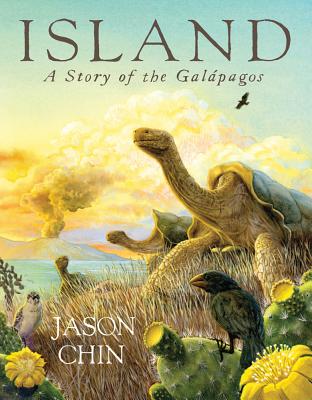 Island (Hardcover)
A Story of the Galapagos
Flash Point, 9781596437166, 36pp.
Publication Date: September 18, 2012
Description
Charles Darwin first visited the Galapagos Islands almost 200 years ago, only to discover a land filled with plants and animals that could not be found anywhere else on earth. How did they come to inhabit the island? How long will they remain?
Thoroughly researched and filled with intricate and beautiful paintings, this extraordinary book by Award-winning author and artist Jason Chin is an epic saga of the life of an island--born of fire, rising to greatness, its decline, and finally the emergence of life on new islands. Chin's approach makes this book a must-have common core tool for teachers and librarians introducing scientific principals to young students.
Island is one of Kirkus Reviews' Best Children's Books of 2012
About the Author
Jason Chin is the author and artist of the Roaring Brook titles Coral Reefs and the award-winning Redwoods, which Kirkus Reviews called, "an inventive eye-opening adventure." This is his third book with Roaring Brook Press. Jason lives with his wife Deirdre, also an artist, and his son in Vermont.
Praise For Island: A Story of the Galapagos…
"Handsome and succinct..."--The Wall Street Journal
Chin's remarkable introduction to the Galápagos is not just a story. It's a biography. It begins with an island's "birth" six million years ago. "A volcano has been growing under the ocean for millions of years," Chin writes. "With this eruption it rises above the water for the first time, and a new island is born." In full-page watercolor paintings and small-size panel illustrations, Chin shows how the tremendous explosion leaves a mass of lava, which hardens and grows into an island. Any reader who has ever made a homemade "volcano" out of baking soda will be hooked.
Writing scientific narrative nonfiction for young children is challenge enough, but creating engaging picture books for older children about the natural world isn't easy either. How to pull in the "Diary of a Wimpy Kid" reader? Credit to Jason Chin, who succeeded at both in "Coral Reefs" (2011) and "Redwoods" (2009). He does so again in his latest, "Island: A Story of the Galápagos."
Chin, as author-illustrator, melds geology with evolution, showing how the land and its inhabitants interact and shape one another in a natural-world interplay. We see how a few intrepid immigrant animals arrive, colonize and transform themselves to accommodate the particular features of their new home. The island grows and changes too as new eruptions lead to the appearance of other nearby islands, while eruptions on the original island grow infrequent, and then cease.
"…a remarkable work and an asset for educators…"--Publishers Weekly, starred
"Chin's gorgeous illustrations include sweeping double-page spreads of the island and its inhabitants…"--Horn Book Magazine, starred
"Another superb contribution to scientific literature by Chin."--Kirkus, starred
"...this fine introduction to [the Galápagos] will surely stimulate readers' interest."--School Library Journal, starred "The art is masterful in its combination of realism and artistic flow; the layout complements sweeping full-page, full-bleed landscapes with carefully controlled panel sequences that provide additional focus on a process or creature, so the evolution of larger finches' beaks, for instance, is clearly demonstrated and explained." -- BCCB, starred review
Advertisement