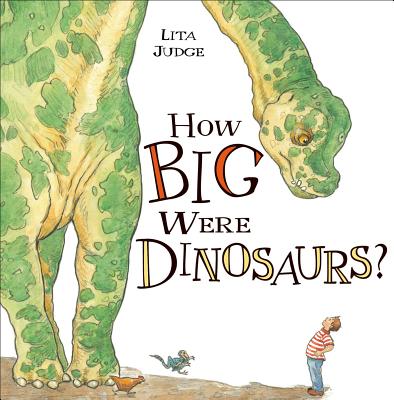 How Big Were Dinosaurs? (Hardcover)
Roaring Brook Press, 9781596437197, 40pp.
Publication Date: August 27, 2013
Description
Have you ever wondered what it would be like to take a Velociraptor for a walk, or try to brush a Tyrannosaur's teeth? We think of dinosaurs as colossal giants, but how big were they REALLY?
With kid-friendly text and seriously silly illustrations, this fact-filled book puts dinosaurs next to modern animals so that you can see exactly how they size up. And a huge fold-out chart compares the dinos to each other, from the tiniest Microraptor to Argentinosaurus, the largest animal to ever walk the land.
An NPR Best Book of 2013.
About the Author
When Lita Judge was fifteen, she wrote to the Royal Tyrrell Museum of Paleontology in Alberta, Canada, and asked to volunteer on a dinosaur dig. She spent the next three summers digging up dinosaur bones, studying fossils, and expanding her imagination. Since then, Lita has continued to learn about the incredible diversity of the dinosaurs that used to roam the earth and brought many of them back to life in Born to Be Giants: How Baby Dinosaurs Grew to Rule the World. She is also the author/illustrator of Bird Talk.
Praise For How Big Were Dinosaurs?…
"[a] lighthearted but factual look at dinosaur size."--Publishers Weekly 
"Dino-philes, assemble!" - Kirkus
Advertisement