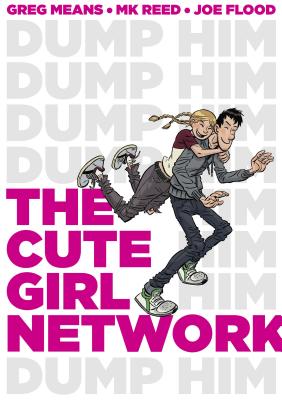 The Cute Girl Network (Paperback)
First Second, 9781596437517, 192pp.
Publication Date: November 12, 2013
* Individual store prices may vary.
Description
Jane's new in town. When she wipes out on her skateboard right in front of Jack's food cart, she finds herself agreeing to go on a date with him. Jane's psyched that her love life is taking a turn for the friskier, but it turns out that Jack has a spotty romantic history, to put it mildly. Cue the Cute Girl Network — a phone tree information-pooling group of local single women. Poor Jane is about to learn every detail of Jack's past misadventures… whether she wants to or not. Will love prevail?
In this graphic novel from Greg Means, Americus author MK Reed, and Joe Flood, the illustrator of Orcs, comes a fast, witty, and sweet romantic comedy that is actually funny, and actually romantic.
About the Author
MK Reed is the writer of Americus, The Cute Girl Network, and Palefire. She draws a web-comic adaptation of Irish mythology, About a Bull. MK lives with her very tall husband. mkreed.com

Greg Means is a writer, editor and librarian living in Portland, Oregon. He runs the micro-publishing company Tugboat Press and edits the award winning comic book anthology Papercutter. The Cute Girl Network is his first novel.

Joe Flood is a comic book artist whose work includes The Cute Girl Network (with Greg Means and MK Reed), the Pirates of the Caribbean series (with Chris Schweizer) and Dinosaurs: Fossils and Feathers (with MK Reed) from First Second's Science Comics series. He lives in New York's Hudson Valley with his wife and daughter.
Praise For The Cute Girl Network…
"A rich and genuine skater punk romance, eloquently picking apart our notions of Good vs. Evil in dating." —Meredith Gran, author of Octopus Pie  
"It's so easy to get comfortable in the world of Cute Girl Network. The beautifully rendered art completely pulls you in, and the natural, breezy dialogue never misses a beat.  There is a welcome familiarity--you feel like you've known a version of these people, your old roommate, a friend, an ex.  It's a testament to Greg Means and M.K. Reed's skills that they can turn a simple boy-meets-girl story into a real page-turner, and keep you guessing at whose side you're on. I hope there's more where this came from." —Kate Beaton, author of Hark, A Vagrant! 
"The Cute Girl Network is more than just some scorned lovers airing their dirty laundry, it's also a very funny story about finding that person who is right for you, even if they're wrong for everyone else. Great art with a great message: I saw a lot of myself in Jane, and if she can persevere in this wacky world of dating, so can I!" —Liz Prince, author of Will You Still Love Me If I Wet the Bed?