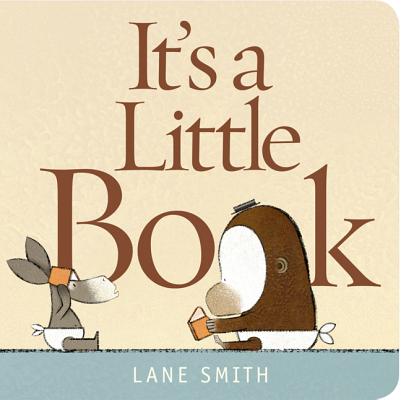 It's a Little Book (Board Books)
Roaring Brook Press, 9781596437586, 24pp.
Publication Date: August 30, 2011
Description
Now in diapers For the youngest of readers who still prefer to chew on a book rather than read it, "It's a Little Book" asks what a book is for--Is it for chewing? Is it for wearing?--and answers the question in a warm and charming way. As funny and captivating as the bestselling "It's a Book," "It's a Little Book" promises to delight a new generation of readers.
About the Author
Lane Smith has written and illustrated a bunch of stuff, including "It's a Book"; "John, Paul, George & Ben" and "Madam President." His titles with Jon Scieszka have included the Caldecott Honor-winner "The Stinky Cheese Man"; "The True Story" "of the 3 Little Pigs"; "Math Curse"; and "Science Verse." Lane's other high profile titles include "Hooray for Diffendoofer Day"! by Dr. Seuss and Jack Prelutsky; "The Very Persistent Gappers of Frip" by George Saunders; "Big Plans" by Bob Shea; and "James and the Giant Peach" by Roald Dahl. In 1996 Lane served as Conceptual Designer on the Disney film version of "James and the Giant Peach." Lane also wrote and illustrated the retro, cult favorites, "The Happy Hocky Family" and "The Happy Hocky Family Moves to the Country." Like the Hocky family, he and book designer Molly Leach live in a little town in the country.
Praise For It's a Little Book…
"The pint-size companion to the best-selling 'It's a Book!,' the board book version doesn't merely shrink the proportions of the original; it also wisely contracts the whole wired world of its older brother into the smaller scope of a toddler's landscape — in a good way." -New York Times "ArtsBeat" blog
"
It's a Little Book
allows you to introduce an even younger generation to the brilliance of Lane Smith in a great board book package…Put down the Tablet, the revolution is over-rated–long live the printed book!" -BSCKids.com "
It's a Little Book
is a Mommy Bookworm's dream…
" -
Jen Robinson's Book Page
Advertisement