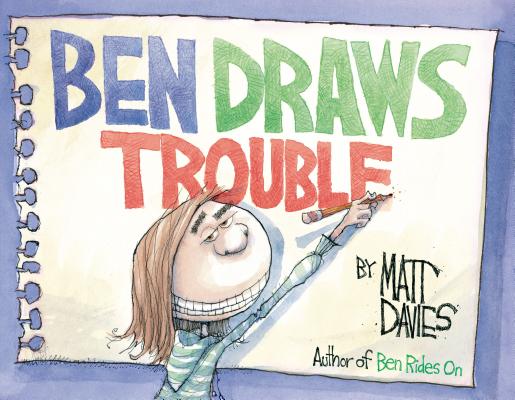 Ben Draws Trouble (Hardcover)
A Picture Book
Roaring Brook Press, 9781596437951, 32pp.
Publication Date: April 7, 2015
* Individual store prices may vary.
Description
Ben loved drawing more than anything else in the world (with the possible exception of riding his bicycle). He drew boats as well as bicycles, sharks and spaceships. But most of all he loved drawing people. When Ben loses his sketchbook his world is turned upside down. Who will find it? And how will they react?
Find out in this worthy successor to Pulitzer Prize-winning cartoonist Matt Davies's first picture book, Ben Rides On.
About the Author
Born in London, England, Matt Davies moved to the U.S. in 1983. He was the recipient of the 2004 Pulitzer Prize for editorial cartoons, the inaugural 2004 Herblock Prize and the 2001 Robert F. Kennedy Journalism Award. He and his wife, Lucy, live in Wilton, Connecticut, with their three children. Ben Rides On is his first book for young readers.
Praise For Ben Draws Trouble: A Picture Book…
"Funny and exuberantly sweet." —Kirkus Reviews
"*Davies's signature cartoon style is as hilarious as ever . . . This wonderful follow-up with especially appeal to young artists and fans of Ben's previous adventure, but it's a fun choice for everyone." —School Library Journal, STARRED REVIEW
"Ben draws during art class, but also during writing and math. His teachers don't always appreciate his offtopic
pictures of sharks, spaceships, and dinosaurs. One afternoon, he loses his sketchbook. Distraught,
Ben arrives at school the next morning and finds his classmates looking at his drawings. His teacher leafs
through the book, lingering over an exaggerated portrait of himself. Next, he silently leads the boy to the
auditorium, where he asks him to design the sets for the school play. The concluding illustration shows
Ben smiling as his 20-foot-tall sharks steal the show. Through the succinct text and emotionally charged
illustrations, children will feel Ben's panic and anguish over losing his sketchbook, his fear of punishment
for the caricatures, and his satisfaction at the happy ending. The ink drawings, washed with gentle colors,
are full of energy and expression. Davies, a Pulitzer Prize-winning editorial cartoonist, also wrote and
illustrated Ben Rides On (2013), which features the same lovably scruffy character." —Booklist