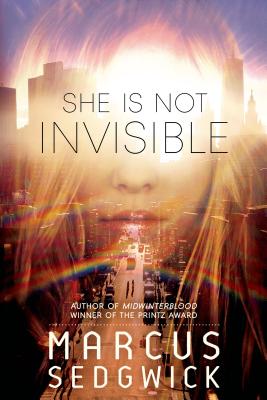 She Is Not Invisible (Hardcover)
Roaring Brook Press, 9781596438019, 224pp.
Publication Date: April 22, 2014
* Individual store prices may vary.
Description
Laureth Peak's father has taught her to look for recurring events, patterns, and numbers--a skill at which she's remarkably talented. Her secret: She is blind. But when her father goes missing, Laureth and her 7-year-old brother Benjamin are thrust into a mystery that takes them to New York City where surviving will take all her skill at spotting the amazing, shocking, and sometimes dangerous connections in a world full of darkness. Marcus Sedgwick's She Is Not Invisible is an intricate puzzle of a novel that sheds a light on the delicate ties that bind people to each other.
This title has Common Core connections.
About the Author
Everyone's had a great coincidence happen to them, and Marcus Sedgwick, author of Midwinterblood, White Crow, and the Printz Honor-winning Revolver, is no exception. Some very weird things have happened to the author over the years, a few of which have found their way into She Is Not Invisible, along with an obsession with the number 354, which has 'haunted' him all his life. As a way to finally free himself from this obsession, the number 354 is to be found lurking 'between the lines' of the story, in various ways.
Praise For She Is Not Invisible…
"In a race against time, Laurel and Ben must investigate what happened to her father using the meager clues they have available . . . Recommend this book to mystery lovers and especially to those who enjoyed Girl, Stolen." - VOYA *"A thriller that challenges readers' understanding of the universe . . . It's no coincidence that Sedgwick has crafted yet another gripping tale of wonder." - Kirkus Reviews, starred review
*"This fast-paced thriller delivers a compelling mystery, thought-provoking questions about existence, and brilliantly lifelike characters." - Booklist, starred review

*"Printz-winner Sedgwick (Midwinterblood) again demonstrates his remarkable versatility, trading the generations-spanning horrors of his recent books for an equally tense contemporary story about coincidence, obsession, and the ways in which we see the world." —Publishers Weekly, starred review
What this book proves, is that Marcus is not only one of the greatest British YA writers, but one of the most versatile too. Unlike anything he has written before and a book that will reach a whole new audience. Bloomin' loved it." -Phil Earle, author of Heroic, Being Billy and Saving Daisy
"Marcus Sedgwick doesn't speak down to his teen readers. He tells it how it is, without footnotes or gloss, and it's up to the reader to decide how much they want to take from his books. A rollicking good adventure? No problem - that's there and easily available. Just let your eyes slide across the bits in italics and jump to the next event. It would be a shame to do that, though, because for those prepared to deal with it, there's much, much more in this book: theories and philosophies and ideas which stretch the reader and give the adventure far greater depth and resonance. " -The Bookbag
"Sedgwick's prose is as crisp and clear as always, without losing a single fathom of emotional depth, and Laureth and Benjamin will resonate soundly with anyone who has ever negotiated the ups and downs of sibling relationships." -Rebecca Davies, The Independent: Children's Book Blog
"Marcus Sedgwick has written a story which really makes you think. He has referred to it as an iceberg and certainly the story can be read on two levels; on the surface a simple story of a girl, Laureth, accompanied by her young brother, Ben and his beloved soft toy, Stan, determined to find their missing father, in spite of Laureth's personal circumstances making this no easy task and, below the surface, a much more complicated story, concerning the nature of obsession and coincidence; all of which leaves you pondering and re-reading. Familial relationships are at the heart of this story and how these can engender love, confidence and faith. Laureth is awe-inspiring and loveable. Her personal journey is totally absorbing". -Gill Perry, Waterstones.com
or
Not Currently Available for Direct Purchase