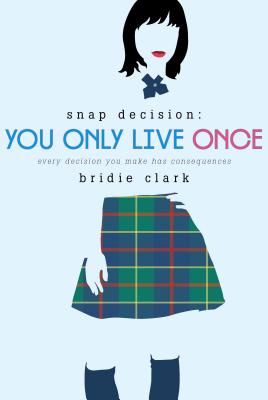 You Only Live Once
Every Decision You Make Has Consequences (Snap Decision #2)
Paperback

* Individual store prices may vary.
Description
You survived your freshman year at Kings Academy, the prestigious prep school in the New Hampshire hills, but hold the slow clap—turns out sophomore year's the real grinder. You'll have to deal with the stress of keeping up with the soul-crushing homework. Not to mention your glam classmates are throwing glitzy sweet sixteen parties this year and you'll need a job if you want to join.
Will you take that babysitting job in town (and pretend not to notice Hot Dad's flirtatious ways)? Will you bribe your way to a New York Times internship and land a college guy? Filled to the brim with twisting paths and turns, this may end up being the best year of your life . . . or it may send you home to Hope Falls in tears. In Birdie Clark's You Only Live Once, whatever snap decisions you make, it's going to be an unforgettable year.
Praise For You Only Live Once: Every Decision You Make Has Consequences (Snap Decision #2)…
"The second book in the Snap Decision series, this gives readers the control in a Choose-Your-Own-Adventure style . . . Clark cleverly arranges the story so that no matter what you choose, you are destined to have a wild year." —Booklist
"Laid out in a "choose your own ending" format and written in a second-person narrative style, the book invites readers to take charge, step into the role of the protagonist, and decide their own fates." —School Library Journal
"The second book in Clark's series includes the same characters and fashion/party vibe of the first book . . . The snapshots lead to sixteen possible endings that touch on such weighty topics as prescription drug abuse, hazing, drunk driving, gay bashing, dating abuse, coach-sanctioned compulsive exercise and dieting, and sexual advances from an adult." —VOYA
"Clark's sequel to Maybe Tonight? (2013) returns "you" to your elite boarding school for your sophomore year of high school, as before ending chapters with Choose Your Own Adventure-style scenarios." —Kirkus Reviews
Roaring Brook Press, 9781596438170, 224pp.
Publication Date: April 15, 2014
About the Author
Bridie Clark has worked as a book and magazine editor and written for the New York Times, Vanity Fair, and New York magazine. Her novels Because She Can and The Overnight Socialite have been published in nineteen countries and featured in dozens of magazines and newspapers, including the Washington Post, the Los Angeles Times, and Glamour UK. She was born in West Hartford, Connecticut and currently lives in Greenwich, Connecticut.