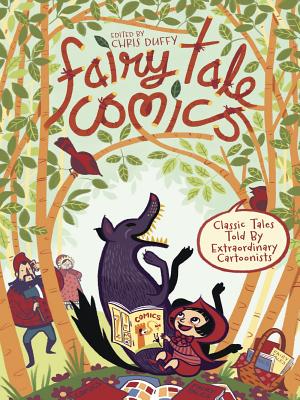 Fairy Tale Comics (Hardcover)
Classic Tales Told by Extraordinary Cartoonists
First Second, 9781596438231, 128pp.
Publication Date: September 24, 2013
* Individual store prices may vary.
Description
A NEW YORK TIMES BESTSELLER
From favorites like "Puss in Boots" and "Goldilocks" to obscure gems like "The Boy Who Drew Cats," Fairy Tale Comics has something to offer every reader. Seventeen fairy tales are wonderfully adapted and illustrated in comics format by seventeen different cartoonists, including Raina Telgemeier, Brett Helquist, Cherise Harper, and more.
Edited by Nursery Rhyme Comics' Chris Duffy, this jacketed hardcover is a beautiful gift and an instant classic.
A New York Times Book Review Editor's Choice
About the Author
...

Chris Duffy is a writer and comics editor. He worked as Senior Comics Editor at the award-winning Nickelodeon Magazine for 13 years and currently edits SpongeBob Comics for United Plankton Pictures, as well as other projects. Chris was part of the board of advisors for Art Spiegelman and Françoise Mouly's TOON TREASURY OF CLASSIC CHILDREN'S COMICS. His comic book writing includes scripts for BIZARRO COMICS, BIZARRO WORLD, SUPERMAN ADVENTURES, SCOOBY-DOO, WHAT IF?, RUGRATS COMIC ADVENTURES, and BATMAN CHRONICLES. He wrote comics strips for FAMILY DOG MAGAZINE. Comics that he has written and drawn have appeared in several anthologies, including AWESOME, AWESOMER, and DRAGONS! He lives with his family in Cold Spring, New York.

Gilbert Hernandez was born in Oxnard, California, and is the cocreator, with his brothers, Jaime and Mario, of the acclaimed comic book series Love and Rockets. Hernandez has won numerous awards for his stories, including the Kirby Award, the Inkpot Award, the Harvey Award, and the United States Artists Literature Fellowship. He resides in Las Vegas, Nevada, with his wife and daughter.

David Mazzucchelli is an acclaimed comic artist, best known for his collaborations with Frank Miller on Batman and Daredevil, his adaptation of Paul Auster's novel City of Glass, and his graphic novel Asterios Polyp.
Praise For Fairy Tale Comics: Classic Tales Told by Extraordinary Cartoonists…
"Fairy tales and comics! This was meant to be. Like peanut butter and jelly, nuts and bolts, rhyme and reason. Editor/writer/artist Chris Duffy has assembled a wonderfully diverse group of fairy tales - from classic Grimm and Perrault to non-European gems - and challenged the coolest bunch of graphic storytelling artists to bring them to life. The result is a collection of absolutely powerful, funny, and pleasing fairy tales ... in the most kid-friendly form. I was enchanted by Gilbert Hernandez's fresh retelling of Hansel and Gretel, thrilled by Luke Pearson's The Boy Who Drew Cats, and tickled by Charise Mericle Harper's The Small Tooth Dog. But that's just me. There is something in Fairy Tale Comics for every kid. Sweet and sour, rhythm and blues, kit and kaboodle." —Jon Scieszka