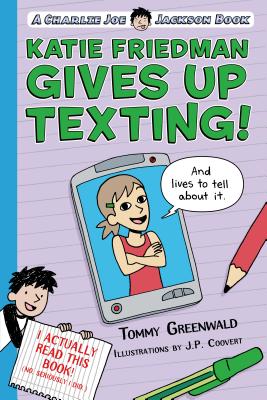 Katie Friedman Gives Up Texting! (and Lives to Tell about It.) (Hardcover)
A Charlie Joe Jackson Book
Roaring Brook Press, 9781596438378, 240pp.
Publication Date: February 17, 2015
Description
When a text goes wrong, Katie Friedman learns the hard way that sometimes you need to disconnect to connect.
Here are a few things you need to know about Katie Friedman:
1. Katie is swearing off phones for life (No, seriously. She just sent the wrong text to the wrong person )
2. She wants to break up with her boyfriend. (Until, that is, he surprises her with front row tickets to her favorite band, Plain Jane. Now what ?)
3. She wants to be a rock star (It's true. She has a band and everything.)
4. Her best friend is Charlie Joe Jackson. (Yeah, you know the guy.)
5. And most importantly, Katie's been offered the deal of a lifetime--get ten of her friends to give up their phones for one week and everyone can have backstage passes to Plain Jane. (A whole week ? Is that even possible?)
About the Author
Tommy Greenwald is the author of the Charlie Joe Jackson series and Jack Strong Takes a Stand. He swears he doesn't text that much, although he has been known to occasionally walk into telephone poles while staring at his phone.
Advertisement