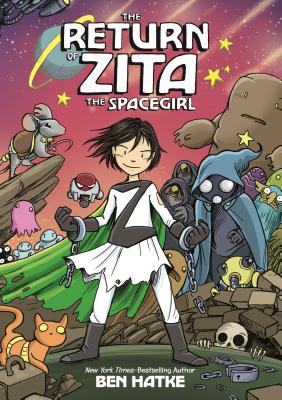 The Return of Zita the Spacegirl (Paperback)
First Second, 9781596438767, 240pp.
Publication Date: May 13, 2014
* Individual store prices may vary.
Description
Ben Hatke brings back our intrepid space heroine for another delightful sci-fi/fantasy adventure in this New York Times-Bestselling graphic novel trilogy for middle grade readers.
Zita the Spacegirl has saved planets, battled monsters, and wrestled with interplanetary fame. But she faces her biggest challenge yet in the third and final installment of the Zita adventures. Wrongfully imprisoned on a penitentiary planet, Zita has to plot the galaxy's greatest jailbreak before the evil prison warden can execute his plan of interstellar domination
About the Author
Ben Hatke's first graphic novel was Zita the Spacegirl. He has published comics stories in the Flight series as well as Flight Explorer. In addition to writing and drawing comics, he also paints in the naturalist tradition and, occasionally, performs one-man fire shows. Return of Zita the Spacegirl is his most recent entry in the New York Times Best-Selling Zita trilogy. Hatke lives and works in the Shenandoah Valley with his wife and their boisterous pack of daughters.
Praise For The Return of Zita the Spacegirl…
"Stellar . . . Hatke's storytelling and worldbuilding are top-notch, ebulliently juxtaposed against vibrantly expressive art . . . Fans of the series: Don't miss this." - Kirkus Reviews, starred review
"As this fine adventure comes to its final pages, Hatke leaves the door just a bit ajar for more interstellar exploits." -- Booklist, starred review
Praise for the Zita series:
"Marvelously inventive!"—Boing Boing
"A page-turner!"—Scripps Howard
"Wonderful!"—Wired Geek Dad