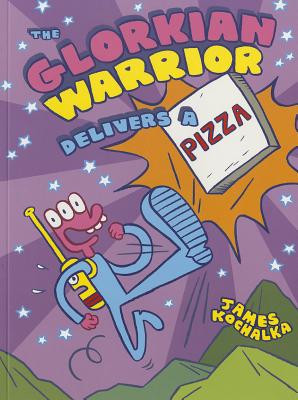 The Glorkian Warrior Delivers a Pizza (Paperback)
First Second, 9781596439177, 110pp.
Publication Date: March 25, 2014
* Individual store prices may vary.
Description
The Glorkian Warrior isn't the brightest bulb in the box, so it's good he's got his trusty talking backpack to advise him as they set out on a perilous journey to deliver a pizza. The pizza's got clams and peanut butter on it, so it's not clear who's going to want it, but deliver it they will. With bright, lively illustrations and classic pratfalls, this graphic novel for kids is 112 pages of super icky gross-out humor and ludicrously bad decisions-- in other words, The Glorkian Warrior Delivers a Pizza is a winner.
About the Author
James Kochalka is the first Cartoonist Laureate of Vermont. He's the author and illustrator of several popular children's book series, including Johnny Boo and Dragon Puncher. Dragon Puncher Island won an Eisner Award in 2012 for Best Publication for Early Readers, but he's also won the Harvey Award and four Ignatz Awards for his books for adults. Kochalka lives in Burlington, Vermont with his wife and two sons. Following a rich career in indie comics, The Glorkian Warrior is his first book with a traditional publisher.
Praise For The Glorkian Warrior Delivers a Pizza…
"The Glorkian Warrior is going to make you hungry!" —Pendleton Ward, creator of Adventure Time
"Vibrantly weird and wonderful." - Kirkus Reviews
"Stuffed with playful fun and awesome sound effects, this feisty intergalactic journey delivers a good-natured sucker punch of glee." -
Booklist
"Quirky, funny, lighthearted, and interestingly subversive." - School Library Journal