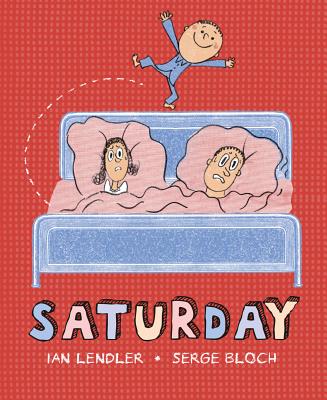 Saturday (Hardcover)
Roaring Brook Press, 9781596439658, 40pp.
Publication Date: July 19, 2016
Description
Want to know the best things about Saturdays?
Lots of books
Rocket ship rides to the moon
Top secret projects (that might not go exactly as planned) And so much more . . .
Saturdays are the best even if you have to do a chore or two. As a little boy takes us through his typical Saturday, you'll see why he's so passionate about his favorite day of the week.
Oh, and the best thing about Saturdays? When the day ends, it leads into Sundays, and you get to have fun all over again.
About the Author
Mondays through Fridays, Ian Lendler is the author of childrens' books like An Undone Fairy Tale, and the graphic novel series The Stratford Zoo Midnight Revue Presents: Macbeth and Romeo and Juliet. On Saturdays, however, he becomes the chief mechanic, celebrity chef, art patron, general, and spy master for his two children. On Sunday, he does not rest. He lives in San Rafael, California. Serge Bloch is a Society of Illustrators Gold Medal winner and recipient of France's Baobab Award. He has written and illustrated numerous books for children and young adults, including My Snake Blake, published by Roaring Brook in 2012. He lives in Paris, France, and New York City.
Advertisement