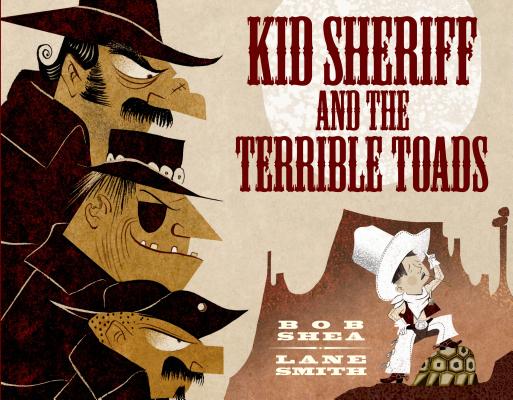 Kid Sheriff and the Terrible Toads (Hardcover)
Roaring Brook Press, 9781596439757, 32pp.
Publication Date: October 7, 2014
* Individual store prices may vary.
Description
Drywater Gulch has a toad problem. Not the hop-down-your-britches, croaking-all-night toad kind of problem. The thievin', hootin' and hollerin', steal-your-gold never-say-thank-you outlaw toad kind of problem.
Then hope rides into town. Sheriff Ryan might only be seven years old, and he might not know much about shooting and roping. But he knows a lot about dinosaurs. Yes, dinosaurs. And it turns out that knowing a thing or two about paleontology can come in handy when it comes to hoodwinking and rounding up a few no-good bandits. From Bob Shea and Lane Smith comes this hilarious picture book, Kid Sheriff and the Terrible Toads.
This title has Common Core connections.
About the Author
Bob Shea
has written and illustrated more than a dozen picture books, including
Dinosaur vs. Bedtime
, and is the author of
Kid Sheriff and the Terrible Toads
and 
Big Plans
, both illustrated by Lane Smith. His writing career began at Comedy Central, and his characters and animations have appeared on Nick Jr., Playhouse Disney, and PBS Kids.  
Lane Smith has written and illustrated a bunch of stuff, most recently There Is A Tribe of Kids, which is set to launch in Summer 2016. He is the author of the middle-grade novel Return to Augie Hobble, as well as author and illustrator of Grandpa Green which was a 2012 Caldecott Honor book and It's a Book which was on the New York Times bestseller list for over six months and has been translated into over twenty languages. His other works include the national bestsellers Madam President and John, Paul, George & Ben. His titles with Jon Scieszka have included the Caldecott Honor winner The Stinky Cheese Man; The True Story of the 3 Little Pigs; Math Curse; and Science Verse. Lane's other high profile titles include Hooray for Diffendoofer Day! by Dr. Seuss and Jack Prelutsky; The Very Persistent Gappers of Frip by George Saunders; Big Plans by Bob Shea; and James and the Giant Peach by Roald Dahl. In 1996, Lane served as Conceptual Designer on the Disney film version of James and the Giant Peach.
His books have appeared on the New York Times Best Illustrated Book of the Year list four times. Lane and book designer Molly Leach live in rural Connecticut.
Praise For Kid Sheriff and the Terrible Toads…
"*Shea's broad parody of matinee Westerns is a readaloud delight . . . This is, without question, the best dinosaur book with no dino-saurs in it." —BCCB, STARRED REVIEW
"Smith's over-the-top goofy townspeople are a perfect partner for Shea's stylistic shenanigans." —The Horn Book
"*A crowd-pleasin' knee-slapper that'll have 'em rolling in the aisles, yessirree." —Kirkus Reviews, STARRED REVIEW

"*Shea's humor is spot-on in Sherriff Ryan's unwavering logic . . . and Smith's illustrations match the deadpan silliness to a tee . . . Another stellar job by Shea and Smith." —School Library Journal, STARRED REVIEW
"Shea and Smith, the duo behind Big Plans, deliver a western yarn that's long on cowboy slang and longer on screwball comedy." —Publishers Weekly