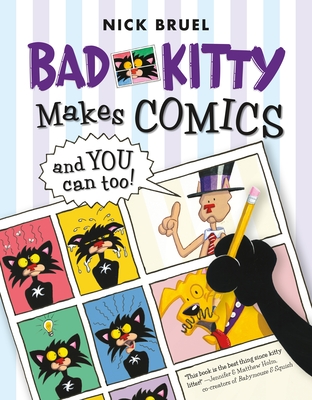 Bad Kitty Makes Comics . . . and You Can Too! (Paperback)
Square Fish, 9781596439795, 144pp.
Publication Date: May 12, 2015
Other Editions of This Title:
Prebound (8/7/2015)
* Individual store prices may vary.
Description
Kitty is bored. She is so bored, in fact, that she even considers playing with that slobbering mutt Puppy, who lives in her house. Nah. Instead, she thinks she'll take a nap. That is, until there is a knock on the door . . .
Strange Kitty is here to guide both Kitty and Kitty's fans through the world of making comics. Like to draw? Great! Here's your chance to show off your skills! Don't know how to draw? That's okay! Through guided exercises you will learn all about how comics work, including sections on panelling, sound and visual effects, word balloons and so much more!
With such fun activities and a hilarious story to boot, this is bound to be a Bad Kitty favorite!
About the Author
Nick Bruel is the author and illustrator of New York Times bestseller Boing, Bad Kitty, Bad Kitty Gets a Bath and Bad Kitty Meets the Baby, among others. Nick is a freelance illustrator and cartoonist, and during his down time, he collects PEZ dispensers and grows tomatoes in the backyard. He lives in Tarrytown, NY with his wife Carina and their lovely cat Esmerelda.
Praise For Bad Kitty Makes Comics . . . and You Can Too!…
"* Surprisingly (and sneakily) instructional, totally hilarious . . . and worth every penny." —Kirkus Reviews, starred review on Bad Kitty Drawn to Trouble
"Bruel's sky's-the-limit attitude will encourage boys and girls to use their imaginations and get writing." —Booklist on Bad Kitty Drawn to Trouble
"In this seventh installment in the series, readers are introduced to the process of writing and illustrating a book in a fun and humorous way." —School Library Journal on Bad Kitty Drawn to Trouble
"ZANY!" —Publishers Weekly on A Bad Kitty Christmas
"BAD BEHAVIOR!" —The Horn Book on A Bad Kitty Christmas
"MADCAP DESTRUCTION AND COMIC ANTICS!" —School Library Journal on A Bad Kitty Christmas
"A witty and original take on the old Christmas Eve chestnut, with a sweet twist to season the fun." —Kirkus Reviews on A Bad Kitty Christmas
"* An alphabet book that should be in every collection. Even the alphabet-experienced will love this bad, bad kitty!" —Kirkus Reviews, starred review on Bad Kitty
"Will have youngsters howling with laughter." —Publishers Weekly, starred review on Bad Kitty