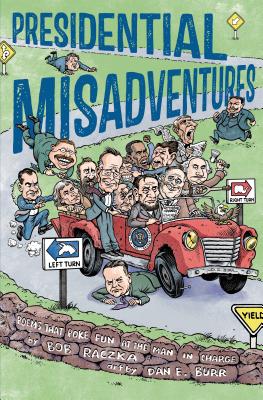 Presidential Misadventures
Poems That Poke Fun at the Man in Charge
Hardcover

* Individual store prices may vary.
Description
A spoonful of poetry helps the mockery go down! This collection of presidential poems is historical and hysterical.

The clerihew is a simple poetic form specifically invented to make fun of famous people—and who is more famous than the misbehaving presidents of the United States? Here are forty-three poems teasing the commander-in-chief that are fun to read aloud and even more fun to write yourself. From the author of the incredibly inventive Lemonade: And Other Poems Squeezed from a Single Word comes a new collection filled with zingers, humdingers, and Presidential Misadventures.
Praise For Presidential Misadventures: Poems That Poke Fun at the Man in Charge…
"These poems are satisfying bursts of sarcasm and wit." —Publisher's Weekly

"Lighthearted and entertaining, Raczka's irreverent quatrains show middle graders no figure is too lofty for some poetic play." —Kirkus

"A jovial collection . . . Share these aloud with history buffs or to enliven the classroom." —Booklist

"A fun and informative addition to poetry collections." —School Library Journal
Roaring Brook Press, 9781596439801, 48pp.
Publication Date: January 27, 2015
About the Author
Bob lives with his wife, Amy, in Glen Ellyn, Illinois. They have three children (Robert, Carl and Emma) and a dog (Rufus). They are all Cub fans.

As a boy Bob loved to draw, especially dinosaurs, cars and airplanes. He also spent a lot of time making paper airplanes and model rockets. One time, he even made a flute out of a stick he found and it actually played music.

Bob studied art in college, which came in quite handy while he was writing his series of art appreciation books, Bob Raczka's Art Adventures. He also studied advertising, a creative field he has worked in for 30 years.

A few years ago, Bob discovered how much he enjoyed poetry. It wasn't long before he started writing his own. He has always loved playing with words.
If Bob could share just one message with today's kids, it would be, "Make stuff!" Draw imaginary creatures. Build forts. Write comic books. Make up games. Invent a new baseball pitch. Design your own Halloween costume. Try your own recipe.

Dare to be creative.
Dan E. Burr
is an illustrator and cartoonist who has won several Eisner and Harvey Awards. He created the artwork for
Kings in Disguise
and
On the Ropes
, both written by James Vance. He is also the illustrator of
Presidential Misadventures: Poems That Poke Fun at the Man in Charge
.