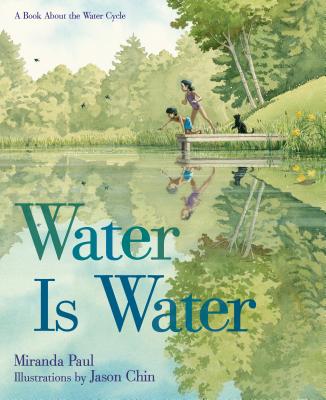 Water Is Water
A Book About the Water Cycle
Hardcover

* Individual store prices may vary.
Description
Drip. Sip. Pour me a cup. Water is water unless...it heats up.
Whirl. Swirl. Watch it curl by. Steam is steam unless...it cools high.

This spare, poetic picture book follows a group of kids as they move through all the different phases of the water cycle. From rain to fog to snow to mist, talented author Miranda Paul and the always remarkable Jason Chin (Redwoods, Coral Reefs, Island, Gravity) combine to create a beautiful and informative journey in this innovative nonfiction picture book that will leave you thirsty for more.
Praise For Water Is Water: A Book About the Water Cycle…
"A biracial brother and sister explore the out-of-doors (and a bit of mischief) through the four seasons in this poetic look at the many forms water takes on its trip through its cycle . . . An engaging and lyrical look at the water cycle." —Kirkus Reviews

"In this gentle and very cleverly rhymed book, basics of the water cycle are conveyed through what otherwise looks and feels like a narrative picture book. An effortlessly multicultural cast of kids floats, darts, and dallies through various seasons of the year, while Paul uses each spread to introduce the next phase of water. Example: "Misty. / Twisty. / Where is the town? / Fog is fog unless . . ."-page turn-"it falls down. / Patter. / Splatter. / What is that sound? / Rain is rain unless . . ." You rather want to know how the line ends, don't you? This excellent rhythm, which often uses ideas and images beyond what you'd expect, is matched by Chin's playful, soft-hued, but always realistic watercolor-and-gouache paintings. Chin is especially adept at portraying light sources, whether they be an early morning glow through kitchen windows, a foggy street through which a school bus creeps, or the blinding golds of autumn sunshine through leaves. A two-page section at the back supplies a bit of the science behind these everyday miracles." —Booklist

"Paul's poetic text highlights various forms water takes as it follows a brother and sister through the year. It includes autumn fog and rain, frozen ponds and falling snow, steam from cups of cocoa, and snowmelt turning dirt to mud. Chin once again demonstrates his mastery of nature illustration, infusing familiar outdoor scenes with simple kid-centric activities that will hold readers' attention while they listen to the text. Although not as dramatic as George Ella Lyon's All the Water in the World (S. & S., 2011), Paul's introduction to the water cycle includes more information that will help extend learning. She provides examples of the water content of various living things and stresses Earth's limited supply of fresh water. The author ties explanations of processes such as evaporation and condensation to pages of the text. VERDICT A first-rate introduction to the water cycle for young readers." —School Library Journal
Roaring Brook Press, 9781596439849, 40pp.
Publication Date: May 26, 2015
About the Author
Miranda Paul has written everything from articles on gardening to poems about the life cycle of a butterfly. She lives a short drive from the shoreline in Green Bay, Wisconsin, with her husband, children, and two friendly cats who love taking baths. Are We Pears Yet? is her second book for Roaring Brook Press following the acclaimed Water Is Water.

Jason Chin is the author and artist of the award-winning book Redwoods, which Kirkus Reviews called, "An inventive eye-opening adventure." His work also includes illustrations for Simon Winchester's The Day the World Exploded. He and his wife Deirdre, also an artist, live in Vermont.