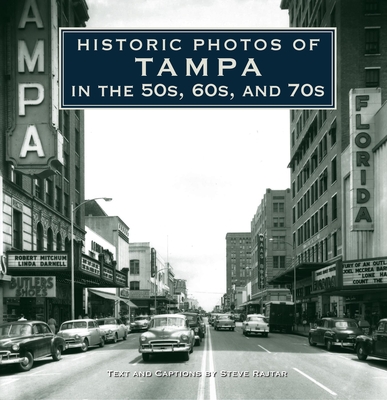 Historic Photos of Tampa in the 50s, 60s, and 70s (Hardcover)
Turner, 9781596528109, 206pp.
Publication Date: March 6, 2012
* Individual store prices may vary.
Description
In the decades of the 1950s, 60s, and 70s, one could wander through the city of Tampa and experience a rich variety of architectural styles, businesses, languages, and traditions, all mixed in with first-class universities, hospitals, and museums. By the 1950s, the University of South Florida was founded, and Busch Gardens opened to locals and tourists alike. The 1960s ushered in a period of construction and entertainment, with residents visiting for the first time the Lowry Park Zoo, Curtis Hixon Hall, and "The Big Sombrero," or Tampa Stadium. Like the rest of the country, the 1970s in Tampa was a time of continued modernization and expansion. Though not immune to crime or misfortune in the thirty-year span, Tampa is remembered in Historic Photos of Tampa in the 50s, 60s, and 70s as an attractive destination and place of residence, as seen through the lens of the camera, a modern city that continues to honor its historical roots.
About the Author
Steve Rajtar has written over 20 books, each dealing with history, particularly that of Florida. Among these works are Historic Photos of Florida Tourist Attractions, Historic Photos of Gainesville, Historic Photos of the University of Florida, and Historic Photos of Florida Ghost Towns, all available from Turner Publishing. Rajtar grew up near Cleveland, Ohio, and after graduating from the University of Central Florida and the University of Florida, entered the practice of law. He continues in that profession today.A love of the outdoors and a fascination with local history inspired one of his hobbies: leading historical tours in Florida's communities of today and yesteryear.
Praise For Historic Photos of Tampa in the 50s, 60s, and 70s…
"A fun-filled look back at Central Florida attractions of yesteryear." —Orlando Sentinel, about Historic Photos of Florida Tourist Attractions
"Historic Photos of Florida Ghost Towns captures forgotten places and ways of life through pictures of everything from plantations to picnics to prisoners. The lost locations are interesting, but just as compelling are the faces of those in the photos." —Florida Today
"This rich book offers a glimpse back into historic locations . . . each image invites close examination and evokes feelings of wonder." —Scott Leon, Orlando Arts Magazine, about Historic Photos of Florida Tourist Attractions