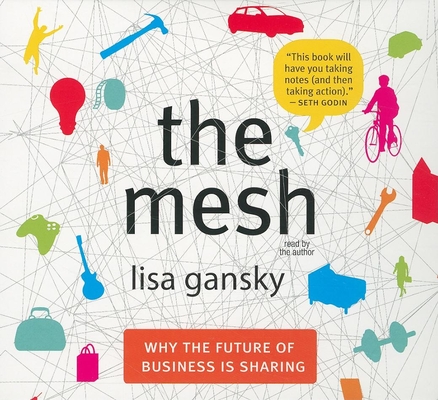 The Mesh: Why the Future of Business Is Sharing (Compact Disc)
Why the Future of Business Is Sharing
Gildan Media Corporation, 9781596595323
Publication Date: November 30, 2010
* Individual store prices may vary.
or
Not Currently Available for Direct Purchase
Description
The Mesh is about a simple new idea that is reinventing the way smart and adaptive companies do business: some things are better shared. A "mesh" is a type of network that allows any node to link in any direction with any other nodes in the system. Likewise, mesh businesses are essentially information companies that happen to connect people with products like cars, houses, and financing. These companies use social media, wireless networks, and data crunched from every available source to deliver goods and services to people only when they need and want them. That's a big change from the traditional basic formula: create a product or service, sell it, and collect money. Someone sells something and someone else buys it. Few businesses, including most entrepreneurs and venture capitalists, can imagine creating wealth any other way. Though they may use Twitter to market their products, their minds are still stuck in a 2-D buyer/seller world Mesh companies throw this old model out the window. Instead, they focus on giving people access to goods and services at the exact moment they need them, without the burdens and expense of owning them outright.
About the Author
Lisa Gansky is the founder and CEO of multiple Internet companies, including GNN and Ofoto. At GNN, which was sold to AOL, she created the first Internet-based advertising and online transactions. At Ofoto, she and her team developed the largest consumer photo sharing and print service in the world, the first to connect digital photo sharing with social networking, and printing digital images via the web. She is currently an advisor and investor in several social ventures, including New Resource Bank, Squidoo, Convio, TasteBook, MePlease, Slide, Instructables, and Greener World Media. Lisa speaks frequently at Internet, new media, and social venture conferences. She is also a Director and Co-Founder of Dos Margaritas, an environmental foundation with programs in Latin America.
Advertisement