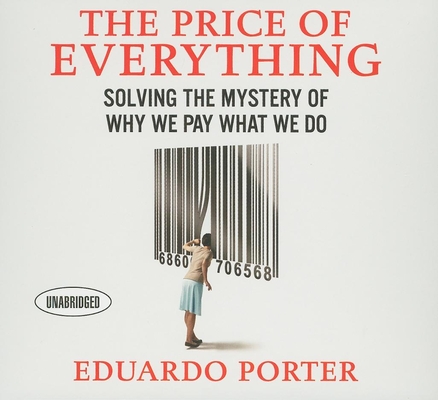 The Price of Everything: Solving the Mystery of Why We Pay What We Do (Compact Disc)
Solving the Mystery of Why We Pay What We Do
Your Coach In A Box, 9781596596269
Publication Date: April 1, 2011
* Individual store prices may vary.
or
Not Currently Available for Direct Purchase
Description
"What is a cynic? A man who knows the price of everything and the value of nothing." -Oscar Wilde The Price of Everything starts with a pretty simple premise. There is a price behind each choice-individual, collective, or national-that we make. Whether we're deciding whether or not to buy a cheeseburger, go to the doctor, go to college, or go to war, everything has its price. And Porter sets out to explore them all, seeking a broad understanding of how we set prices and how prices change our lives. But the strange connections and hidden motivations he uncovers are anything but simple. They are unexpected, sometimes shocking, always interesting, and ultimately highly enlightening. Porter has a gift for uncovering the hidden logic of price that drives all our actions. His stated goal takes him in some interesting and rather counterintuitive directions, such as: - Assigning an actual price tag to women and tracking their rising value as a function of economic growth - Comparing the cost-per-vote in corrupt Sao Tome to the supposedly less-corrupt (and less efficient) campaign spending of U.S. politicians - Explaining why McDonald's burger menu pricing encourages irrational behavior The Price of Everything will show listeners how prices, both explicit and unspoken, move people and societies. A cosmopolitan journalist with a taste for empirical observation and an appreciation for the social sciences, Porter's wide-eyed approach brings new life to his subject. His broad perspective leads him to draw unexpected connections bridging disparate disciplines and cultures. In this fascinating and elegant narrative, Porter proves just how prices have enormous influence on people, in fact shepherding the flow of our lives.
About the Author
Eduardo Porter has been on the staff of The New York Times since January 2004, covering economics, and joined the paper's editorial board in July 2007. He began his journalism career in 1990 as a financial reporter for Notimex, the Mexican news agency, in Mexico City. He was a correspondent in Tokyo (1991-1992) and in London (1992-1996). In 1996, Porter was appointed editor of the Brazilian edition of America Economia, a business and economics magazine based in Sao Paulo. In 2000 he became senior special writer for The Wall Street Journal, based in Los Angeles, covering the Hispanic population in the United States. He is a graduate of the Universidad Nacional Autonoma de Mexico. He has an MSc in quantum fields and fundamental forces from Imperial College of Science, Technology and Medicine in London.
Advertisement