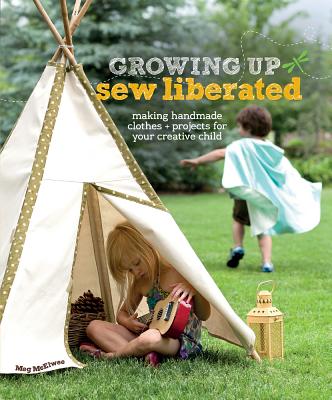 Growing Up Sew Liberated (Paperback)
Making Handmade Clothes & Projects for Your Creative Child [With Pattern(s)]
Interweave Press, 9781596681620, 159pp.
Publication Date: June 14, 2011
* Individual store prices may vary.
Description
Bring joy, creativity & learning to your sewing with fabulous kid-friendly projects
Meg McElwee puts her signature sewing style into gorgeous children's clothes and creative activity-focused designs. From simple clothing to toys, Growing Up Sew Liberated is packed with innovative, playful sewing patterns. Follow the structure of a child's day with 20 projects including:
Getting up and getting dressed: comfortable clothing patterns such as T-shirts, sweatshirts, and pocket pants.
Homemaking and cooking: projects for engaging children in helping around the house and for in the kitchen, such as aprons, bibs, and placemats.
Playtime: indoor and outdoor activities are celebrated with dolls, a cape, a satchel, and a tent.
Bedtime: snuggle in for a night in cozy pj's and a sleep sack.
Meg adds in suggestions for projects and adventures for kids and adults to explore together and tasks that children can accomplish on their own.
Includes a techniques section, how-to photos, extra tips and tricks, and a bonus full-size pattern section, Growing Up Sew Liberated collects designs, activities, and ideas that are perfect for adding creativity into the daily life of sewists, children, and families.
About the Author
An internationally certified Montessori teacher, Meg McElwee is a successful sewing pattern designer and the author of the Sew Liberated crafting blog, where she offers sewing tutorials and writes about motherhood and other handmade projects. She is also the author of Sew Liberated: 20 Stylish Projects for the Modern Sewist. Meg lives in North Carolina with her husband and two sons.
Praise For Growing Up Sew Liberated: Making Handmade Clothes & Projects for Your Creative Child [With Pattern(s)]…
Rarely, though, does a book make my heart race in the same way that it does every time I open my copy of Growing up Sew Liberated. The photos are dreamy and gorgeous, but it's the projects that really speak to my racing heart. This book is full of patterns and instructions to make all of the things that my daughters want." Stefanie Japel, Craftsy.com

The clothes are cute but not cutesy, and they look super comfortable, too. The playthings are made with learning in mind the author is a former Montessori teacher but they aren't earnest. The dolls and capes and play tent would doubtless provide all sorts of room for imaginative play." CanadianLiving.com

"I loved her first book, so I knew this one, which is devoted to the littles, would be fantastic too. And it is!...full of beautiful things to sew. Many of the projects are just right for gifts as well. I would enjoy making all of them and I know they would all be well received and loved." Meg Spaeth, ElsieMarley.com

One of my favorite things about Meg's blog (and this book) is that her writing and designs are infused with experience from her years as a Montessori teacher. I love reading about how she has translated that training into parenting... Throughout the book Meg has added wonderful tips and ideas for play, learning, and involving children in household tasks that are really inspiring." - Rae Hoekstra, Made-by-Rae.com

I have a new favorite sewing book! The book is full of playful and easy sewing projects to make for children...Growing Up Sew Liberated is interspersed with great nuggets of wisdom about play, art materials, and learning. As a longtime reader of Meg's (since back when she was blogging as Montessori by Hand), I see the former early childhood educator coming through here." The Artful Parent

Growing Up Sew Liberated is a fantastic sewing book, but more importantly it is a guide to deepening our children's love of nature through creative play. Every project has a purpose. A child's need for rhythm and sense of wonder are main themes throughout the book, and it is a wonderful insight into how to create a natural rhythm for any family." Rhythm of the Home

This title is full of inspiration, practical sewing instruction for family projects, lovely photos, and comforting advice about creating family rhythm." SimpleHomeSchool.net

INCREDIBLE! Meg has merged her early childhood education background, with her pattern making skills and mothering experience to produce a book that is filled with gorgeous clothing destined to become your child's favorites...the instructions and patterns are always straightforward so even if you don't have lots of sewing experience you can go forth with confidence." - Maya Donenfeld, Maya*Made

The perfect inspiration for summer sewing." Blair Stocker, Wise Craft

Growing up Sew Liberated is beautifully written and styled in a manner that will inspire both you and the little ones in your world. The sewing projects have been thoughtfully put together and nestled among them are tips and ideas on connecting with your children through play and creativity." - Jennifer Casa, JCasa *handmade

This book is not only great resource for patterns and projects but also wisdom on family life, rhythm (one of my favorite topics),and teaching - to name just a few." Nicole Spring, Frontier Dreams

Do you follow Sew Liberated [the blog]? Then you probably know what a sweet, kind, creative woman Meg is. What I love most about this book is that you can see her personality in it. You can just feel it through her writing and kid-friendly projects." Dana Willard, Dana-Made-It.com

All of Meg's patterns have a timeless and classic style while keeping the fun and creativity of childhood play as their focus." Joanna Johnson, author, Phoebe's Sweater

A collection of adorable items to sew for your little one." The Detroit News

If you are a mom, grandma, or anyone who has children in your life, the projects in this book will be fun to make and give." Bloom, Bake & Create

Meg McElwee has a great philosophy on making kids clothes, focusing on making them comfortable, kid-friendly, practical, and adorable. As both a teacher and a mother, she designs clothes that are made for active little ones who are continually exploring their environment." Tricia Waddell, Editor, Stitch Magazine

A book full of practical, creative, and educational sewing projects for babies and young children...I found her Irresistible Numbers project to be, well, irresistible. Not only are these fused-appliqué fabric sandwiches easy to make, they use up scrap fabrics in a fun way. Think of them as very tiny baby quilts." Pokey Bolton, editorial director, Quilting Arts magazine

"Meg's background as a Montessori educator and mother of two shines through in the activity-focused" designs. Infuse some extra creativity and fun into your days with Growing Up Sew Liberated!" - Sew, Mama, Sew

"Even grown-ups would find it hard to resist the lovely goodies in sewer Meg McElwee's latest book, Growing Up Sew Liberated. A few of the patterns that caught my eye included her hideaway play tent, reversible hooded play cape, and cozy kiddo pajamas. Each project description gives readers an idea of the care that McElwee puts into creating her patterns. Her directions are clear, concise, and downright fun to see come together." - Becky Hensley, Colorado at Home, The Denver Post


More Praise for Sew Liberated:

A fantastic sewing book." Cate Prato, editor, Studios magazine

Packed with fun projects that highlight the fantastic possibilities that come with incorporating easy applique techniques." Craftsanity

Grab the bag of fabric scraps along with this book for a wealth of ideas for embellishing handmade items with applique and trims to add that truly personal touch. This is a fun title." Sewing World
or
Not Currently Available for Direct Purchase