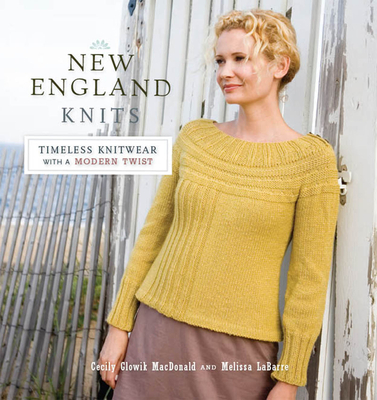 New England Knits: Timeless Knitwear with a Modern Twist (Paperback)
Timeless Knitwear with a Modern Twist
Interweave Press, 9781596681804, 159pp.
Publication Date: July 27, 2010
* Individual store prices may vary.
or
Not Currently Available for Direct Purchase
Description
New England's seasons call for plenty of warm knitwear, and New England Knits provides an irresistible collection of beautiful designs.
Inspired by autumn and winter in New England (where the savvy knitter is never far from a sweater between September and March), the book is divided into three themes: Walk in the Woods, Around the Town, and Along the coast. Within each section readers will find a variety of flattering, wearable sweaters and accessories (including hats, mittens, scarves, bags, and shawls). Projects by guest designers from Classic Elite, Berroco, and the Fiber Company provide round out the collection.
About the Author
Cecily Glowik MacDonald has designed for Interweave Knits, Knitscene, Knit.1, Knit Simple, Vogue Knitting, Cast On, Knitter's and Creative Knitting. In addition, her designs have appeared in Classic Elite Yarns Collections, Interweave's Knitting Green, Knitted Gifts, Color Style, and Simple Style, as well as Vogue's Knitting on the Go series. She lived in Massachusetts while writing the book but recently moved to Portland, Maine. She blogs at cecilyam.wordpress.com. Melissa LaBarre has published patterns in Knit.1 and Vogue Knitting and for yarn companies Classic Elite Yarns, St-Denis Yarns, and Kelbourne Woolens. She lives in Western Massachusetts and blogs at knittingschooldropout.com.
Praise For New England Knits: Timeless Knitwear with a Modern Twist…
"Every July or August, there is a book that comes out that makes everyone wish it was fall already. This year it's this book." Knitty.com

"This book brings that New England feel to life and adds a few little touches to modernize each pattern." KnitPurlGurl.com

"The sweaters are interesting in design and most have some sort of shaping so that they do not just hang off of the wearer like a box." BellaOnline.com

"The clear, cookbook style instructions are augmented by full color photography, often with close-ups of the detail work and especially nice, are the schematic drawings which allow for easy alterations. The comprehensive glossary located at the back includes a broad collection of basic and not-so-basic techniques along with a list of yarn suppliers...the majority are nice, simple garments with just enough interest to engage the knitter and delight the wearer." Monsters and Critics

"...a book worth buying. The sweaters have a lot of classic elements, but they were designed with today's knitters in mind." MyCentralJersey.com

"In the vast array of knitting books I own, there are only a handful of books that I turn to over and over again. Books that stand the test of time and continue to inspire every time I leaf through the pages. I suspect the newly published New England Knits, (Interweave Press, 2010) will fall into this category." Classic Elite Yarns

"There are at least eight designs in here that I want to make, and it's been a while since a new book had that many 'hits' for me...None of the designs are too fussy, none are too boring. They're just cozy, appealing, and attractive...Really, I love this book." KnittingScholar.com

"Pretty, fun stuff with interesting stitch patterns and stylish shaping. Two paws enthusiastically up for this one!" Austin-American Statesman

"Here's a lovely book of timeless hand knitwear with a modern twist, which captures the spirit of New England. Inspired by the vivid seasons, where a sweater or cap is always at hand to chase off a breeze, this collection is by young North East designers. The book is filled with flattering, wearable sweaters and jackets plus hats, mittens, scarves, bags and shawls. Lushly photographed on the New England coastline, these up-and-coming designers present their fresh take on classic knitting. The size range is generous - typically up to 50 inch bust. Full blocking diagrams, measurements and charts are included for most of the designs, so the ideas can easily be transferred to charting devices for machine knitting." - Machine Knitting Monthly

"This collection of 25 designs has a decidedly feminine feel, with a focus on flattering shaping. Cables are designed to emphasise waists; pretty stitch patterns work to elongate the body; textured cuffs and hems add interest, while the shapes are classic and wearable. There's a great range of designs, from jumpers and cardigans to vests and accessories. Most are knitted in subtle colours, to showcase the shaping and stitch patterns, although colourwork fans will love the 'Whale Watch Hat'." - The Knitter

"A knitting book with a hint of travelogue, this is the work of first-time authors Cecily Glowik MacDonald and Melissa LeBarre. The subtitle 'Timeless Knitwear with a Modern Twist' tells you exactly what you're in for. Beautiful photos of the New England coastline set the tone, and the patterns by the authors plus four guest designers certainly do it justice. The patterns are divided into three evocative themes: Around the Town, Fall on the Farm, and Along the Coast, giving you a sense of the inspiration behind the designs. We love the 'Greenfield Cardigan' by Melissa LeBarre, with its pretty leaf detailing, and the versatile 'Windsor Warmer' in softest cashmere by Cecily Glowik MacDonald." - Simply Knitting

"If you're looking for timeless, wearable knits, this book's got you covered - um, literally. The book is filled with 25 patterns for cardigans, pullovers, hoodies, and accessories prompted by blustery seasons and seaside walks. Each project comes with generous photography (think multiple angles) to give you a clear idea of the finished piece." - Knitting Today(US)

What do you think of when someone says New England'? Myself, I think of storm swept beaches and rocks jutting out into the ocean, snowy landscapes, rolling hills in every color imaginable, big red barns and of course cozy fisherman sweaters. This book has all of that and more. And not just sweaters but vests, hats, bags and mittens too." CraftGossip.com
Advertisement