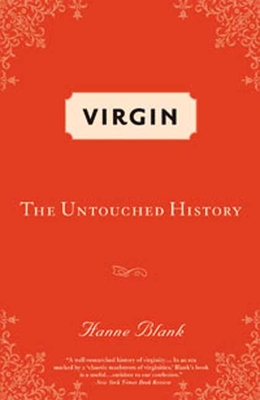 Virgin (Paperback)
The Untouched History
Bloomsbury USA, 9781596910119, 304pp.
Publication Date: March 4, 2008
Other Editions of This Title:
Hardcover (3/20/2007)
MP3 CD (5/10/2016)
* Individual store prices may vary.
Description
"A well-researched history of virginity In an era marked by a chaotic maelstrom of virginities, ' Blank's book is a useful antidote to our confusion." "New York Times Book Review "
""
""Hanne Blank's revolutionary, rich, and entertaining survey of an astonishing untouched history reveals why humans have been fixated on an indefinable state of being since the dawn of time. As the butt of innumerable jokes, center of spiritual mysteries, locus of teenage angst, popular genre for pornography, and nucleus around which the world's most powerful government has created an unprecedented abstinence policy, "Virgin "also shows how utterly important to contemporary times the topic is.
About the Author
Hanne Blank is a writer, historian, and public speaker whose work has been featured everywhere from OUT to Penthouse. An independent scholar, she has served in faculty positions at several colleges and universities, most recently as the 2004-2005 scholar of the Institute for Teaching and Research on Women at Towson University, Maryland.
Praise For Virgin: The Untouched History…
Praise for Virgin:
"Entertaining and erudite…
Virgin
is a treasure trove of obscure and fascinating material . . . presented with wit and clarity. Blank's eye-opening cultural history will make you re-think everything you ever thought you knew about its familiar yet under-analyzed subject."—
Rachel Mania Brown, author of All the Fishes Come Home to Roost
"This entertaining history is a passionate polemic, brimming with a genuine spirit of emancipatory activism."
—
Washington
Post Book World
"A passionate polemic, brimming with a genuine spirit of emancipatory activism."
—Washington Post
"Erudite and witty." —Chicago Sun Times
"It would all be exhausting if it weren't so enlightening and, for reasons both prurient and educational, page-turning." —Baltimore City Paper
"Her survey is engrossing and informative...she¹s willing to do research both in the stacks of law libraries and in the back shelves of video stores." —New York Observer
"Fascinating...Her history of virginity's importance to Western culture goes a long way toward explaining why, in the wake of the women's movement, the sexual revolution and the wholesale modernization and secularization of American culture, we have abstinence-only sex education, virginity pledges and admiration for chaste pop princesses...the book is a pleasure to read." —San Diego Union Tribune
"A well-researched history of virginity…Blank entertains…delicious facts are scattered throughout…In an era marked by a 'chaotic maelstrom of virginities,' Blank's book is a useful…antidote to our confusion." —New York Times Book Review
"In her lively book on virginity, Blank writes with forthright gusto...She has a juicy time cataloguing cultural associations, historical trends...and physiological factoids...[written] with a cheery, erudite, feminist eye." —Entertainment Weekly
"Scholarly...Blank is scrupulous about trying to understand why and how ignorant theories have developed and established themselves." —San Francisco Chronicle
"Blank's revealing history of virginity begins with discoveries related to women's bodies over time, then quickly moves on to a fascinating analysis of the roles economics, religion, and urbanization have played in the changing attitudes toward virginity. From the Roman Empire to the Jazz Age and beyond, with appearances by Jesus, Elizabeth I, Samuel Pepys, and Alfred Kinsey, this is a rich history indeed." —Booklist
"Blank touches on virtually every aspect of the indefinable state and the result is something much more enticing than the actual experience of losing it." —Nylon
"A bright addition to the popular literature of women's and cultural studies [and an] informative, funny and provocative analysis of one of the most elusive‹and prized‹qualities of human sexuality...Blank has no shortage of fascinating facts...Blank also has a pleasing, highly readable style that allows her to convey large amounts of information with wit and agility...Thoroughly researched, carefully argued and written with a sly sense of humor, this is a bright addition to the popular literature of women's and cultural studies."
—Publisher's Weekly
(starred review)
"It's a rare book that can provide a deeper understanding of our cultural relationship to female sexuality along with an array of lively cocktail party trivia. Impeccably researched and engagingly written, Virgin does both with wit, style, and intellectual rigor. Before I read it, I didn't even realize how little I knew about virginity, and how much there is to know. What a huge contribution to study of sexuality and gender."--Lisa Jervis, Bitch: Feminist Response to Pop Culture
or
Not Currently Available for Direct Purchase