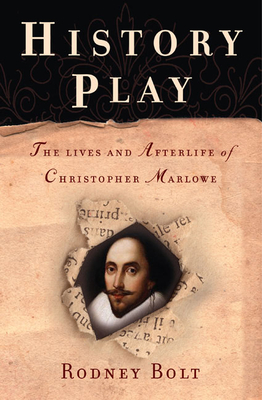 History Play: The Lives and Afterlife of Christopher Marlowe (Hardcover)
The Lives and Afterlife of Christopher Marlowe
Bloomsbury USA, 9781596910201, 400pp.
Publication Date: August 11, 2005
* Individual store prices may vary.
or
Not Currently Available for Direct Purchase
Description
Rodney Bolt's delightful life of Marlowe plays out a surprising solution to an enduring literary mystery, bringing the spirit of Shakespeare alive as we've never seen it before.
Rodney Bolt's book is not an attempt to prove that, rather than dying at 29 in a tavern brawl, Christopher Marlowe staged his own death, fled to Europe, and went on to write the work attributed to Shakespeare. Instead, it takes that as the starting point for a playful and brilliantly written "fake biography" of Marlowe, which turns out to be a life of the Bard as well. Using real historical sources (as well as the occasional red herring) plus a generous dose of speculation, Bolt paints a rich and rollicking picture of Elizabethan life. As we accompany Marlowe into the halls of academia, the society of the popular English players traveling Europe, and the dangerous underworld of Elizabethan espionage, a fascinating and almost plausible life story emerges, along with a startlingly fresh look at the plays and poetry we know as Shakespeare's. Tapping into centuries of speculation about the man behind the work, about whom so few facts are known for sure, Rodney Bolt slyly winds the lives of two beloved playwrights into one.
About the Author
Rodney Bolt was born in South Africa and read English at Corpus Christi College, Cambridge--Marlowe's alma mater. After working in the 1980s as a writer and director in theater in London, he moved to Amsterdam, where he now lives. He is also a travel writer, and has won national travel-writing prizes from Germany and the United States.
Praise For History Play: The Lives and Afterlife of Christopher Marlowe…
"With gobsmacking audacity, Bolt recreates an alternative life of Marlowe that compellingly views the known facts from a different angle."



"A triumph...It has both a serious remit and enough puns and anagrams to make Shakespeare (or possibly Marlowe) blush. It made me laugh out loud. And, most of all, it made me want to go back to the plays. This was a book that needed to be done perfectly or not at all. It is perfect."



"History Play's rich and meticulously researched portrait of the 16th and 17th centuries is written with a keen sense of Elizabethan metaphor and contemporary analogy…I was happy to go along for the ride."
Advertisement